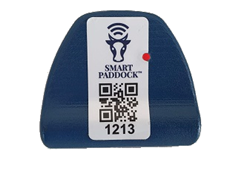 SAN DIEGO (PRWEB) March 04, 2020
eSAT Global, Inc. ("eSAT") a developer of low cost, real-time satellite IoT connectivity solutions today announces its partnership with Smart Paddock, creator of the "Bluebell" multisensory livestock tag. Together they will seek to provide over $9 billion in benefits to the Meat and Livestock industry.
The initial phase of the project will result in large scale field trials of eSAT's miniaturized, direct-to-GEO-satellite communication modules integrated with the Bluebell Tags. These trials represent a new stage of the development for the Bluebell Tags, they are expected to be begin by Q4 of 2020 and lead to global availability in 2021.
Mandated traceability of Cattle in Australia is about to move into the next phase. Passive identification will be usurped by real-time tracking, health reporting, theft protection, enhanced biosecurity and identification. Livestock will now be able to be traced on and off the farm and live exports will be able to be monitored all the way to their final destination. eSat and Smart Paddock are targeting extended device & battery life to meet the demanding requirements of Australia's biosecurity regime.
Smart Paddock CEO Darren Wolchyn, said, "we have been searching for a satellite connectivity solution which would facilitate the fastest possible adoption by farmers, no need to build and pay for infrastructure and a product which will work anywhere in the world. We expect that not only will eSAT deliver anywhere connectivity with the form factor we require but at a price which will make it easy for farmers to justify their investment."
Rick Somerton, eSAT's Regional Director commented "There are enormous benefits to Australian and International farmers and ranchers from the delivery of 24*7 connect smart tags." and he further commented "Smart Paddock is a pioneer in the development of smart tags and in the delivery of information to users and we are pleased to be working with them to help Australian Farmers realise the benefits to their industry."
In 2018 Meat and Livestock Australia estimated that the benefits of smart tags could be over $9 billion to the industry. This is over and beyond the bio security benefits of being able to trace and track every animal. Smart Paddock and eSAT believe that similar benefits will be available to many of the world's 3 billion sheep and cows.
About Smart Paddock
Smart Paddock is an Australian-based company developing smart tags for the livestock industry that provide real-time information to producers about the health status, behaviour, and accurate geo-location of all animals in their herd utilizing IoT data straight from the paddock.
To gather the data, Smart Paddock has created the Bluebell tag which attaches securely onto each animal and monitors the temperature, mobility, and geo-location, which the producer can easily access from a web dashboard or mobile phone application.
For more information, visit http://www.smartpaddock.com
About eSAT Global
eSAT Global's mission is to bring disruptive direct-to-satellite connectivity to low cost IoT devices. eSAT is led by satellite industry veterans with a track record of bringing successful multi-billion-dollar communications products and services to market.
The direct-to-satellite connectivity solution is built around eSAT's patented architecture using existing and highly reliable GEO MSS satellite platforms. Designed from the ground up for Internet of Things (IoT) applications, the eSAT solution requires no terrestrial infrastructure or back-haul, while providing global coverage. IoT devices equipped with eSAT communications modules directly communicate with GEO MSS satellites at a transmit power level comparable to that of a car key fob, enabling years of operation on a single battery. eSAT technology enables the lowest cost for multiple modes of operation such as sensing, tracking, alarm reporting and command and control. Latency below two seconds is supported for time-sensitive applications. This unique combination of low cost, low latency, and global coverage is not matched by any other existing or proposed IoT connectivity solution, including the many proposed Low Earth Orbit (LEO) satellite systems.
For more information, visit http://www.esatglobal.com
For further information contact:
Rick Somerton
Rick.somerton@esatglobal.com
+61411758973