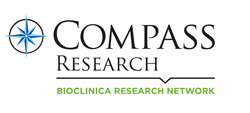 The partnership between GGI and Compass Research is a natural fit.
Winston-Salem, NC (PRWEB) February 23, 2017
The Greater Gift Initiative, Inc, (GGI) a Winston-Salem, NC 501(c)3 non-profit, is pleased to announce a new partnership with Compass Research. GGI's mission is to advance global health and highlight the greater good of clinical trial participation by gifting a vaccine to a child in need in honor of each clinical trial volunteer. The vision of GGI is to serve as a philanthropic connector between clinical trial sites, individual investigators, CROs and sponsors by conveying a unified message to the clinical volunteer community that their participation does matter. Recognized as one of the premier research site organizations in the world, Compass Research operates three multi-therapeutic clinical research sites in Orlando, Melbourne, and The Villages, Florida. The partnership between Compass Research and GGI will increase the number of vaccines donated and expand the positive impact of the GGI program on health, in the US and worldwide.
"The decision to partner with The Greater Gift Initiative was simple and clear," said Sean Stanton, Sr. Vice President, Global Operations of Compass Research. "Their mission aligns perfectly with that of Compass Research which is, 'To improve human health through clinical research.' We are proud to support The Greater Gift Initiative and help it reach its goal of increasing vaccines administered to children by 20%-30% over 2016."
"Compass Research is a valued new partner," said Amanda Wright, Executive Director of GGI. "From my first conversation with the leadership of Compass Research, it was apparent that the organization is driven by its mission to make a meaningful contribution to world health and promote the well-being of its patients. The partnership between GGI and Compass Research is a natural fit."
Greater Gift Initiative is pleased that this partnership will allow more vaccines to be donated, and that each clinical trial volunteer will have an opportunity to know just how important they are in the development of new medicines and treatments through their participation in a clinical trial.
About Greater Gift Initiative, Inc.
The Greater Gift Initiative, Inc. honors the clinical trial volunteers who make the advancement of medicine possible by giving one vaccine to one child each time one volunteer makes the important decision to participate in a clinical trial. Visit us at http://www.GreaterGiftInitiative.org.
About Compass Research
Compass Research is a multi-therapeutic network of clinical research sites located in Orlando, The Villages, and Melbourne, Florida and is part of the Bioclinica Global Research Network. Since 2006, Compass Research has partnered with hundreds of pharmaceutical companies to improve the quality of life for people around the world for a broad range of health conditions. With an experienced team of board-certified physicians and support staff, Compass Research is renowned for its high-quality, study-related care and work in advancing medicine.