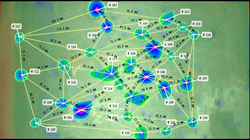 dentCHECK performance and validation process are consistent with criteria in Boeing's Service Letter...
(PRWEB) January 15, 2019
Aeromexico, Mexico's global airline and leader in Latin American aviation, has selected 8tree's dentCHECK tool to significantly enhance the efficiency and quality of dent-mapping on its fleet of aircraft. dentCHECK is the world's only handheld portable, completely wireless 3D scanner tool with integrated AR that is specifically designed for the aviation maintenance industry. It is now used by the world's leading commercial, cargo and defense MROs. Delivering real-time 'go/no-go' answers, the tool significantly reduces dent-mapping and reporting times, compared to traditional manual methods that use depth-gauges, straight-edges and calipers.
"After evaluating several technologies, dentCHECK was our natural choice for a variety of reasons", said David Nakamura, SVP Engineering, Planning and Technical Services at Aeromexico. "dentCHECK's point-and-click operation and consistently accurate measurements will allow our team to leverage the tool's benefits immediately. We will also be able to produce very quick reports to be submitted to OEMs, should the case be needed, for the evaluation of damage exceeding SRM limits. Boeing's Service Letter released last year, containing 3D scanner selection criteria, recognized dentCHECK's performance and the rigor of 8tree's measurement validation process. We expect to immediately put dentCHECK to use on our Boeing fleet and to expand to our Embraer fleet very shortly. We are confident that important efficiencies will be gained for both our ongoing maintenance as well as for our aircraft redelivery processes".
"We are ecstatic to welcome Aeromexico – our first major Latin American carrier – to the rapidly growing global aviation community of dentCHECK users", said Arun Chhabra, CEO, 8tree. "We are grateful for the rigor of their selection process – it gives our dentCHECK tool an opportunity to very convincingly speak for itself. We look forward to enabling Aeromexico's operations and having them experience 8tree's exceptional customer service."
dentCHECK was purpose-built per the specifications of the aviation maintenance industry. Following rigorous multi-year trials and evaluations, dentCHECK is now recognized by multiple aircraft OEMs. It is approved and published in Airbus' Tool Equipment Manuals (TEMs) for dent-mapping on metallic aero-structures and composite cabin floor-boards on all Airbus aircraft. In addition, dentCHECK's performance and established measurement validation process is completely consistent with the criteria outlined in Boeing's Service Letter, which is applicable to all Boeing commercial aircraft.
Multi-OEM acceptance of dentCHECK has propelled the tool's adoption by airlines/MROs globally. Detailed case-studies published by TAP-M&E, easyJet and a leading US airline, as well as news from Airbus' Flightline, DHL-Express and Zeppelin, demonstrate that dentCHECK drastically reduces inspection and reporting times by up to 90%. As such, it empowers aircraft maintenance operations with first-of-its-kind objective and consistent dent-inspection and expedited blend-out results. This shortens aircraft Turn-around-Time (TaT), which further reduces lost revenues and very directly improves operational efficiency for airlines. dentCHECK enhances safety through an improved understanding of airframe reliability.
For more information and to see dentCHECK in action, visit http://www.8-tree.com.
About 8tree
8tree makes 3D optical surface inspection tools that solve chronic problems for multiple industries. 8tree's products empower every operator – from mechanics on the floor, to engineers in the lab – with precision measurement, portability and performance. With its patented user-centric product design, instant 'go/no-go' answers and zero-learning curve, 8tree is committed to making precision 3D scanning more broadly accessible – technically and commercially.
About Aeromexico
Grupo Aeromexico, S.A.B. de C.V. is a holding company whose subsidiaries are engaged in commercial aviation in Mexico and the promotion of passenger loyalty programs. Aeromexico, Mexico´s global airline, operates more than 600 daily flights and its main hub is in Terminal 2 at the Mexico City International Airport. Its destinations network features 90 cities on three continents; including 43 destinations in Mexico, 18 in the United States, 18 in Latin America, 4 in Europe, 4 in Canada and 3 in Asia.
The Group's operating fleet of 125 aircraft is comprised of Boeing 787 and 737 jet airliners and next generation Embraer 170 and 190 models. In 2012, the airline announced the most significant investment strategy in aviation history in Mexico, to purchase 100 Boeing aircraft including 90 MAX B737 jet airliners and 10 B787-9 Dreamliners.
As a founding member of the SkyTeam airline alliance, Aeromexico offers customers more than 1,150 destinations in 177 countries served by the 19 SkyTeam airline partners rewarding passengers with benefits including access to over 750 premium airport lounges around the world. Aeromexico also offers travel on its codeshare partner flights with Delta Air Lines, Avianca, Copa Airlines, EL AL, GOL Linhas Aéreas, Japan Airlines, Jet Airways and WestJet, with extensive connectivity in countries like the United States, Brazil, Canada, Central America, Colombia, India, Israel or Peru. http://www.aeromexico.com http://www.skyteam.com