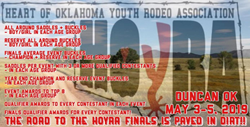 DUNCAN, Okla. (PRWEB) May 01, 2019
The Heart of Oklahoma Youth Rodeo Association is proud to present the 2019 HOYRA Rodeo Finals to Duncan, OK on May 3-5, 2019. The rodeo will be held at the Stephens County Fair & Expo Center, with no cost of admission required.
HOYRA was founded by a group of dedicated parents as a non-profit organization. It is incorporated and has a 501 C3 non-profit status. The goal of this association is to provide the highest standard of sportsmanship in the competitive events of rodeo, to keep alive the American Western Heritage, and to teach the importance of humane and ethical treatment of animals. They strive to teach children the foundation of good horsemanship and to raise them in an environment that shapes character, promotes model citizens, and provides skills that will ultimately lead to future world champions and leaders. HOYRA is open to all young people 18 years of age and under. With four (4) different age groups, HOYRA offers Barrels, Poles, Goat Tying, Breakaway Roping, Ribbon Roping, Tie-Down Calf Roping, Steer Breakaway and Team Roping.
To provide a true family association, HOYRA offers open events as well for parents and other adults. Each year their goal is to provide each qualified member with a jacket, first time trophy buckle and a prize for each event in which they qualify. Since the organization began, HOYRA has given away a minimum of 31 saddles each year in various youth events and has paid out over Two Hundred Thousand in cash and prizes to contestants. It's membership averages between 100 to 160 each year with members ranging in location and covers the entire state with some members joining us from Texas as well. As a non-profit organization, officers and board member positions are strictly voluntary.
All labor required to put on a rodeo performance is provided by the parents, family and friends of the contestants. An annual membership fee and a minimal office charge are withheld from each contestant's entry fee to pay for rodeo supplies and to apply toward year-end awards and prizes. This association depends greatly on the assistance of corporations, businesses and individuals who are gracious enough to donate cash, prizes and most importantly their time.
The event schedule begins on Friday, May 3 with check-in for barrel and pole contestants set for 6:30 PM. Following check-in, the first round barrels and poles will begin at 7:00 PM. Then on Saturday May 4th contestants Check in by 8:30 am, and for all Other Contestants 8:45 am line up for grand entry on foot by back #. There is a 9am Grand Entry for All contestants. We will call in each contestant, and then take Group Picture in front of the Bucking Chutes (Full Rodeo Attire) Then at 10am RODEO Starts! Round 2 Barrels, Poles followed by Round 1 & 2 Goats, Dummy Roping, Calf Roping, Steer Roping, and Team Roping. On Sunday May 5th Cowboy Church/ Awards 9:30 am held in designated area of arena building
Make plans to bring the family for some exciting action with no cost to spectators for admission. For more information, please contact HOYRA directly on their website at http://www.hoyra.net. You may also find the organization on Facebook at http://www.facebook.com/hoyra.net/.