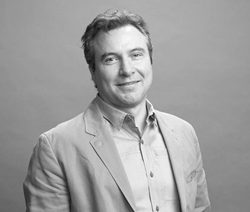 SAN FRANCISCO (PRWEB) December 17, 2018
Silicon Valley-based Hero Digital LLC, the leading independent customer experience agency, today announced the appointment of Kenneth Parks as its first Chief Marketing Officer. Parks will help to spearhead Hero Digital's brand strategy, marketing and sales enablement under CEO David Kilimnik. Parks joins at a time of exponential growth and expansion for Hero Digital, following its recent acquisition of digital innovation agency Clock Four. Parks joins Hero Digital from Dentsu Aegis Network where he served as CMO.
"The board and I are delighted to announce Kenneth's appointment. We're at a pivotal point in our business where having a CMO of Kenneth's caliber with an extensive background within our industry is vital to our continued growth," said David Kilimnik, CEO and co-founder of Hero Digital. "His decades of experience in big data, customer experience and marketing cloud technologies make him an ideal leader to help accelerate our goal of becoming the leading independent customer experience agency for CMOs."
Having spent his career in digital professional services firms that bridge strategy, execution and design, Parks has a deep and holistic understanding of what CMOs need to enable brand and business growth. During his time at Dentsu Aegis Network, he was responsible for shaping the network's brand and go-to-market strategy in the U.S. Prior to Dentsu Aegis Network, Parks spent 17 years at Digitas, part of Publicis Groupe, in a variety of senior roles including CMO, Managing Director and Head of Client Services.
"I am thrilled to join Hero Digital's team of digital experience entrepreneurs," said Kenneth Parks, CMO of Hero Digital. "Born in Silicon Valley, its data and technology-led customer experience value proposition is uniquely positioned to meet the future needs of CMOs. It is this special blend of expertise that drives new business growth."
In addition to Parks' appointment, Hero Digital has added Kelli Trujillo to its leadership team as SVP, Employee Experience. In her role, Trujillo will spearhead the agency's employee experience and recruiting initiatives to foster a best-in-class culture that promotes entrepreneurship and diversity while elevating business growth. With over a decade of Human Resources experience, Trujillo has led teams for a variety of professional services organizations like The OutCast Agency and Outsell, Inc.
Earlier this year, Hero Digital was named one of Inc's hottest companies. Hero Digital continues its rapid growth record and in December 2018 announced its fourth acquisition.
About Hero Digital
Today's brand opportunity is to compete and grow via a relentless focus on the customer. Hero Digital is the independent customer experience agency that turns vision into reality—crafting iconic experiences, building customer loyalty, and delivering results.
Led by the experts in strategy, data, design, and technology, we offer a rare combination of digital skills. Our lean teams are led by practitioners, so we waste no time in delivering results from strategy through execution.
A trusted advisor to the world's best brands, our customer-centric experiences have defined companies like Sephora, Western Digital, Salesforce, Microsoft and Aramark.
For more information, visit http://www.herodigital.com.
Contact:
Saleema Fazal
Hero Digital, LLC
415.286.9477
saleema.fazal(at)herodigital.com