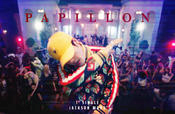 Break the rule, defy all the odds, meet the brand new self on the road! – Jackson Wang
Los Angeles, CA (PRWEB) August 26, 2017
Jackson Wang is an easily recognizable face across Asia, and to K-Pop fans worldwide. This August, his new solo single "Papillion" will be released, giving Jackson's many fans something to talk about.
The talented rapper's effortless flow is backed by a fiery, bass heavy beat and catchy hook. But perhaps the most impressive thing about this "Papillon" will come from behind the scenes, since Jackson was the force behind it all. From the composition of the song, to production of the music video, Jackson had his hand in creating all of it.
"Papillon" celebrates breaking free from inauthenticity and shedding the shackles of corporate greed. In China, both the single and video for "Papillon", will be released exclusively on QQ Music on August 26th, and will be available on all music releasing platforms on August 29th. Outside China, "Papillon" will be available for download on all music platforms on August 26th, and the video will be available on YouTube/Vevo.
The video for "Papillon" promises the same level of panache and polished fabulousness fans have come to expect from Jackson, and this is no accident since Jackson was in charge of the production of the video, down to the last detail. Featuring his crew, Team Wang, intense and engaging visuals and fierce choreography, "Papillon" is sure to be the biggest hit of 2017.
When asked about the highly anticipated debut Jackson says, "This is a declaration of the music, where the change is in the creation." Armed with the resiliency that would force most artists to call it quits, this emerging superstar has been quite candid about his plans for his career going forward:
Step forward or step back
When facing challenges, we always have two voices in our mind, 'step forward or step back'. The one who want to step forward is always affected by the weaken self. It is obviously that Jackson is the one who wants to step forward. He wants to burn the negative self and to show a new self. As it is written in this song, 'Ain't nobody give a XXXX'bout a rule that's what I do', Jackson wants to break the rule of life. 'Papillon' is a meaningful break of the rule of life. Using his spirit of creating unlimited possible music, Jackson brings the most advanced hip-pop music to the public.
"Break the rule, defy all the odds, meet the brand new self on the road!" - Jackson Wang
Jackson is a well regarded fixture of Chinese and Korean entertainment. In addition to his music career, he MC's the popular cooking show "Please Take Care of My Refrigerator", as well as composing the theme song for the show. By communicating with his fans on Wiebo in 3 different languages, Jackson shows his dedication to fan engagement. In turn, his fans voted him one of the Top Ten Hottest Guys in Asia.
In between his numerous TV and media appearances, there have been talks of Jackson developing new solo material. In a recent interview, he dropped hints of an upcoming solo album. While Jackson is proud of the past work he has done, moving forward, he will focus more on his music, since it is his true passion.
Inspired by industry mentors such as the highly sought after celebrity jeweler Ben Baller, Jackson was encouraged to be himself, regardless of the opinion of others. Embracing the confidence to follow his dream, he fully stepped into his gift and started cranking out the material. Now, with the forthcoming release of "Papillon", Jackson Wang will continue to make a name for himself as an undeniably gifted rapper, producer, songwriter, and performer, as his loyal fans speculate what's to come.
About Jackson Wang
Jackson Wang is a K-Pop star and media personality from Hong Kong. He is most well known for his work with the boy band GOT7, a group known for their dance performances inspired by breakdancing and martial arts. Jackson is also well known for his TV appearances across a broad range of genres, including dramatic series, variety shows and hosting a popular cooking show. He regularly engages with his fans on Weibo, which has led to him being one of the most searched artists in China. Jackson's latest project is his debut solo release, "Papillon". For more information, follow Jackson on Instagram or Weibo (@jacksonwangG7).
Official YouTube Page: http://www.youtube.com/channel/UC7t63tTu19rKtTgd1EgXvrg
Official Instagram: http://www.instagram.com/jacksonwang852g7