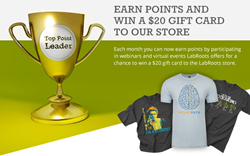 YORBA LINDA, Calif. (PRWEB) August 28, 2018
LabRoots, the leading provider of interactive virtual events for tech innovators, engineers, and scientists from around the world, is proud to announce the launch of a new gamification feature, allowing users to earn points by participating in the many events LabRoots offers for a chance to win one of LabRoots most popular shirts.
Throughout each month, LabRoots users will earn points by building their profile, registering for future events, or participating in live or on-demand events. The fastest way to collect points is by watching and engaging in any live webinar or virtual event. A more comprehensive list of how users can earn points can be seen on the Leaderboard page.
"For years the LabRoots educational platform allows users to watch, learn, and connect seamlessly as they engage in our online events," said Tracy Salcido, vice president of LabRoots over production, IT and development. "With this new feature, we can inspire users to keep learning and now showcase and award our top users for their engagement on the platform."
Once the month is over, the top 10 point scorers on the leaderboard will be awarded a $20 gift card for the LabRoots store to select a shirt in any of LabRoots popular designs. At the end of each month, scores will be reset, and the process will begin again.
Similar gamilfication features have been incorporated in LabRoots virtual event's online environment, where users earn points by attending presentations and even participating in a scavenger hunt. Users can expect similar additions and enhancements to the site, providing more ways to get engaged and learn on the online platform.
ABOUT LABROOTS
LabRoots is the leading scientific social networking website and producer of educational virtual events and webinars. Contributing to the advancement of science through content sharing capabilities, LabRoots is a powerful advocate in amplifying global networks and communities. Founded in 2008, LabRoots emphasizes digital innovation in scientific collaboration and learning, and is a primary source for current scientific news, webinars, virtual conferences, and more. LabRoots has grown into the world's largest series of virtual events within the Life Sciences and Clinical Diagnostics community.