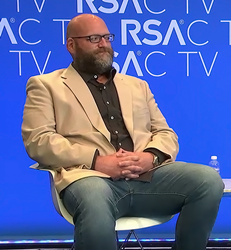 Hay joins the executive team to lead the company through its next phase of growth.
DENVER (PRWEB) May 01, 2019
Lares®, a global leader in security assessment, testing, and coaching, today announced that veteran technology executive Andrew Hay has joined the company as Chief Operating Officer (COO). He is the author of multiple books on advanced security topics and is frequently approached to provide expert commentary on industry developments and asked to present at conferences around the globe. He has been featured in publications such as Forbes, Bloomberg, Wired, USA Today, and CSO Magazine.
Hay was most recently Founder and COO at LEO Cyber Security where he established the firm's highly successful Credit Union security consulting practice and helped drive multiple annual recurring revenue (ARR) security architecture and virtual Chief Information Security Officer (vCISO) deals.
"I've worked with Chris and Eric on a number of projects, events, and presentations over the past 10 years," said Andrew Hay. "The honesty and integrity of Lares continue to be a much-needed breath of fresh air in the industry."
Hay will join Founder and CEO Chris Nickerson and Co-Founder and VP Eric Smith on the executive team to lead the company through its next phase of growth via new product and service ideation, partnerships, customer acquisition and retention, and expansion into new markets.
"Both Eric and I have a lot of respect for Andrew and his experience," said Chris Nickerson. "We couldn't be happier to bring him into the fold to help us grow the business and expand our capabilities."
About Lares, LLC.
Lares is a security consulting firm that helps companies secure electronic, physical, intellectual, and financial assets through a unique blend of assessment, testing, and coaching.
For more information, visit Lares.com, contact us at (720) 600-0329, or follow Lares on Twitter @Lares_.