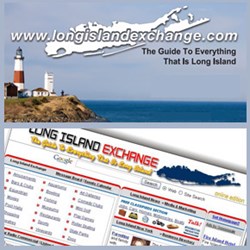 Dealers benefit from this audience by being in the right place at the right time, when they are ready to buy
(Long Island, N.Y.) (PRWEB) August 08, 2013
Last year, Long Island Exchange Inc., (http://www.longislandexchange.com) released new technology built and developed specifically for use by Long Island consumers to help find automotive inventory throughout a Long Island marketplace.
"Consumers need quick, easy ways to shop without having to visit multiple sites, usually nationally based, which often lack local appeal," said Founder and Managing Partner John Colascione. "LongIslandExchange.com now offers thousands of cars and trucks with a one-stop-shop where buyers can find what they are looking for on one local site they know and trust. Dealers benefit from this audience by being in the right place at the right time, when they are ready to buy," he added.
To check out this new automotive marketplace please visit [http://www.liusedcars.com.
For over a decade, LongIslandExchange.com has been the leading source of regional targeted information specifically for the Long Islander. "While most of Long Island's sites have faded away, LongIslandExchange.com continues to offer the Long Islanders breaking news, classifieds, over 50,000 homes and real estate opportunities, entertainment, business data and plenty more," Colascione said.
To view a list of participating dealers please visit: http://www.lidealers.com.
To become a participating dealer please call: (631) 592-4425 and dial Ext. #208.
About Long Island Exchange Inc.
Launched over a decade ago in 2002, LongIslandExchange.com is a privately owned media company providing Long Islanders with a wealth of information, news, local business data, and resources for planning activities in the area. The site has won five awards from BOLI, Best on Long Island, in best of categories like "News, Media and Publications" as well as "Best Web Site of the Year".
To find out more about Long Island Exchange please visit: http://www.liexchange.com.