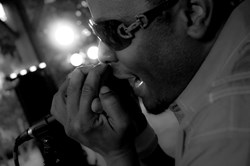 The goals of the Wolfpack Music Group are deeper than just releasing music filled with explicit content using a gimmicky attempt to "Get money," that relies on the idea that, sex, drugs, alcohol, shock value, and the love of money sells.
(PRWEB) September 26, 2013
The Wolfpack Music Group, an international music production conglomerate for, "Social Positivity Through Pop Art," held a private listening party in The Live Music Capital of the World to celebrate progress on WPMG Music's socially conscious double disc album & mixtape project: The Unstoppable Undertaking, and In the Same Game. At the party, the second WPMG single, "Life Support," was revealed with a live performance from the group's first Caribbean artist, Mandrike. Keeping the Wolfpack philanthropy alive at the party, guests had to bring items for the homeless to trade for "free" drinks, "earning" them with their social positivity. As the energy and antics unfolded on stage, a friendly spontaneous freestyle battle with an original twist began, and at one point WPMG Music's CEO, Producer Robin Blesch, also rapped on stage with her artists! Wait... What?
2nd WPMG Music single, "Life Support:" by Wolfpack Artists Mandrike & JG Creations.
A music video is planned for "Life Support," but a promo video has been release. There are plans to shoot other music videos for The Unstoppable Undertaking singles. Editing the music video Ms. Blesch shot for the album's first single "What's Up With the Love" was not possible over the summer, while in Belize, but is currently underway. More on music videos for the album to be released.
Photos from the party can be found HERE
The Wolfpack raised several hundred items for the homeless at the party, and Ms. Blesch reports that she has already taken the donations out to the city's homeless, allowing people in need to choose from the items for free. The remainder of the items will be donated to The Salvation Army, and the food raised will be donated to Loaves and Fishes. The warm clothes have been saved for distribution during the winter.
When delivering the donations, the homeless lined up orderly, helped unload the car, and helped each other choose items without fighting. "To see the smiles, and hear the heartfelt gratitude from the people makes me want to cry, and then do it again each time I've done this. I encourage more people to get involved in helping others." said Ms. Blesch
At the party, the large stage at the private venue was like a playground for artists. They played and performed unreleased tracks equipped with a very nice sound system sponsored by FatStream.com, an audio and video equipment rental and sales company providing services throughout South Texas. Party guests enjoyed energy drinks provided by Playboy Energy Drink.
During the party several artists participated in a freestyle battle with a new twist. Blesch assigned participants socially conscious themes to freestyle about, and the artists had to keep the freestyle clean. FAME and JKing, and Philly Phill came very close to getting through their verses without getting buzzed out by Ms. Blesch for breaking the clean rule, and all three won a free photo shoot from WPFG Studios. All who participated, took on the unique challenge with a good attitude, and tried hard!
The Wolfpack Music group has artists in several cities, states, and six different countries, so all were not in attendance. In an unexpected escapade, DDI (who just resigned his Wolfpack contract for three more years, almost a year early) playfully made Producer_Robin take the mic and rap along with the verses of the artists who weren't there when their songs were previewed. She stepped up to that challenge, and even playfully emulated the hype of the artists jumping around the stage, with only a few breaks to stop and laugh. She admits to having vocals on at-least one track on the album, but informs that it's a positive message, not a rap verse.
"Life Support" wasn't originally scheduled as the second single for the album; it was created while Ms. Blesch was out of the country this summer. "I fell in love with the track when I first listened to it, and I said to myself, 'Now here is a message the world should hear!' I then decided to release it next," said Ms. Blesch. One of the goals of the Wolfpack Music group is to stand up and stand out from the majority of artists, being a constant voice of positivity in a world where negativity seems to prevail.
"Even though WPMG is a commercial music project, and I'm aware of the current popular explicit music trends marketed with big money to the worlds listeners, I choose not to play to those current trends. The goals of the Wolfpack Music Group are deeper than just releasing music filled with explicit content using a gimmicky attempt to "Get money," that relies primarily on the idea that, sex, drugs, alcohol, shock value, and the love of money sells. I'm a leader, not a follower! Everyone has a voice, and anyone can rhyme; it's what you say or do with your voice, in my opinion, that matters!"
Wolfpack artist Mandrike, Originally from the Caribbean, is a Texas studio owner, producer, engineer, and artist with the group that typifies the Wolfpack motto of "Social positivity through pop art." Aside from being a qualified and talented music professional who has shared stages with artists like Akon, Morgan Heritage, Third World, Steel Pulse, and Machel Montano, Mandrike also spends lots of time working with kids and doing community work. He started two Caribbean organizations: AAA (Artists Against AIDS), and Advance Promotion dedicated to youth development. He currently works as a youth counselor at Methodist Children's Home with teens who've come from a broken home. Musically and physically in society he is one of the artists helping lead the positive movement Ms. Blesch has begun.
Mandrike Music can be heard blazing the radio stations in the Caribbean and other parts of the world. Efforts to get WPMG's music radio spins, and distribution has already fruitfully begun as well, even though some tracks on the album are still being completed. "Life Support" was already put in rotation on "Worlds End Music Radio Station" in Europe before it officially released at the party, and other deals are currently pending.
The first single "What's Up With The Love" had radio play in Washington DC, and streaming live to 97 countries on the Wolfpack Pre-release East Coast Tour before the summer. Ms. Blesch was also able to get some of the groups unreleased tracks radio play in Punta Gorda, Belize, and also had the tracks played through the streets of Orange Walk, Belize at a Cancer benefit while in Central america. She reports that she will be following the project to the next level, focusing on radio play and distribution of the album when it is finished, and that there are already opportunities potentially available, waiting for the album to be completed.
Wolfpack Artist Dino CEO of Mysterious Entertainment has offered to help Robin with distribution once the album is ready. Mysterious Entertainment recently became an extension of SMG Universal, and now has the ability to distribute the label's releases in store and digitally to a global market. Mysterious is also strongly affiliated with marketing and promotion juggernaut [P.U.S.H. (Promote Until Something Happens).
Ms. Blesch gives an official update on the album's progress: "The original goal was to release the album and mix-tape together at the party after I returned from Belize this summer. However, I returned a few weeks ago, after a grueling summer completing the archaeological field school through the University of Texas, to find out that task delegation for album completion had failed. The project came almost to a complete stand still for some artists, while others worked to keep things going in my absence. I'm back now and we are picking up where we left off on wrapping the album project. Therefore, I'll release a new release date for the album when it is completely ready, and release singles in the meantime."
"Artists who truly fit in the Wolfpack Music Group are role models and leaders that care about our world, team players, and trend setters. The Wolfpack will one day be comprised entirely of motivated entertainment professionals with a high work ethic who keep their contractual obligations, and can produce high quality marketable entertainment on a production pace. The pace that has been set for the group to date is one track per month per artist. The group's contracted artists are not producing on that production pace yet, but once we reach production pace... We will be The Unstoppable Undertaking for real!" Blesch adds.
For more information about the Wolfpack Music Group, click here.
For more information about the Wolfpack Underground Studio System, click here.
Artists who wish to submit to be reviewed and considered for inclusion in the Wolfpack Music Group should submit here.
#WolfpackApocalypse #ChangeTheWorldForTheBetter #WolfpackGlobal #\m/\m/73