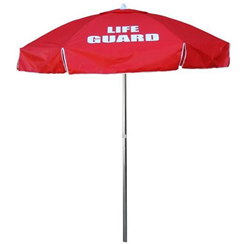 Quality lifeguard umbrellas
Los Angeles, CA (PRWEB) August 27, 2014
Spending all day in the sun can make lifeguards exhausted and less resourceful. Sunshine along with heat can make lifeguards tired and less effective when looking out for dangers in the water or even people in trouble. For this reason, many outdoor lifeguard stations use large umbrellas to keep the sun off of lifeguards for more effective shifts. The popular lifeguard supply company, Lifeguard Master, recently reevaluated their lifeguard umbrellas and upgraded the umbrellas more durability.
The umbrellas made by Lifeguard Master are made of the highest quality durable, weather resistant nylon. The umbrellas contain a vinyl laminate covering to protect against nature's elements. Lifeguard Master carries five varieties of quality lifeguard umbrellas including a standard durable lifeguard umbrella, an ultra weather durable umbrella, a UV resistant umbrella, a Lifeguard Logo umbrella, and a windproof umbrella.
"[Lifeguard Master is] great! I am so impressed with the quality, pricing and mostly the speed with which I received my order! Thank you so much! I would recommend [Lifeguard Master] to anyone," says Debbie from Hidden Hills, California.
The Standard Durable Lifeguard Umbrella features a two-tone weather resistant nylon and vinyl laminate covering. The umbrella opens up to a 6.5 foot diameter and comes with a 6 foot aluminum pole with a tilting device. This umbrella is incredibly durable and weather resistant, made of the highest quality and is light weight. This item can also be found on ebay, by going to http://www.ebay.com/itm/LIFEGUARD-UMBRELLA-WEATHER-DURABLE-/130399760489?
The Ultra Weather Durable Umbrella also coves in a two-toned weather resistant nylon with vinyl coating. This umbrella is incredibly strong and sturdy and was designed to withstand and last in any weather condition. With a UV rating of 50+ and a tilting mechanism for the pole, this umbrella is sure to protect lifeguards from the sun. The 6.5 foot diameter and 7 foot aluminum pole allows the shade to cover lifeguards efficiently.
Another upgraded umbrella was the UV Resistant Umbrella, which is virtually 100 percent UV resistant. This umbrella reflects sunlight and protects lifeguards from damaging UV rays while keeping lifeguards up to 15 degrees cooler than other umbrellas. Made of nylon, this durable umbrella remains stable in high winds and has an average lifespan of three to five years if good care is taken. This umbrella has a vented system that lets wind pass between the double canopy allowing for extreme durability. At 7 feet tall and a 6 foot canopy span, this umbrella is great for different types of lifeguard environments.
The Lifeguard Logo Umbrella is great when a lifeguard station needs to be clearly identified. With a 6 foot diameter, this umbrella is great for beaches, hotels, community pools, and more. This umbrella is sure to withstand outdoor elements such as wind, rain, ocean water, and chlorine water if necessary.
The Windproof Umbrella is great for those who anticipate high-wind areas at the lifeguard station. This 6 foot umbrella allows wind to pass through two canopy layers allowing for high-wind stability. This umbrella is virtually 100 percent UV resistant and can keep the lifeguard up to 15 degrees cooler. Weighing only 6 pounds, this umbrella is incredibly lightweight while being extremely effective and durable as well.
A lifeguard umbrella is one of the most useful tools to help a lifeguard stay concentrated on the public they serve. By making a lifeguard more comfortable, lifeguards can focus on the different patrons of the beach or pool front instead of being dehydrated and damaged from the sun or other elements. With umbrellas from Lifeguard Master, lifeguards on duty will also not have to worry about the umbrella falling apart or blowing away. Full focus and concentration on the public can be achieved by providing the lifeguard with the right tools. To go to Lifeguard Master's sister site, please visit: http://lifeguardshirt.com/lifeguardumbrellas/.
Lifeguard Master has been in the emergency and life saving industry for many years. Sammy, the owner and founder of Lifeguard Master has been a lifeguard himself for 7 years. He knows the importance have having all the equipment readily available for a first responder, and through the years Lifeguard Master has become a robust lifeguard supply and lifeguard store company, accommodating the anticipating needs of first responders around the country and around the world. Lifeguard Masters determination to excellence and rescue safety has quickly made it a leader in its industry. For more information, please give us a call, send us an e-mail or visit our website. Also to stay updated with the latest news in emergency supplies, please visit our forum where rescue professionals from around the country and world stay connect, and post the latest emergency news at LifeguardsOnline.com.
Sammy
Lifeguard Master
(714) 605-3090
http://LifeguardMaster.com