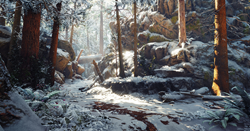 LOS ANGELES (PRWEB) November 17, 2018
Set in a solar system far from Earth, "Lightyears from Home" is a sci-fi game that puts the player in the shoes of an engineer following clues to an unknown galaxy in search of someone who had long gone missing. The story begins with the player exploring Glacier IV, a geothermal ice planet that was formerly explored by a major mining company before being abandoned due to unexplained casualties.
While a story-based metroidvania game at heart, "Lightyears from Home" will incorporate mechanics from various game genres, including survival, crafting, and RPG, to create a uniquely player-driven experience. The player faces not only the planet's wildlife but also the environment itself, providing a constant challenge to the exploration of the game world.
"Lightyears from Home" strives to be a visually stunning game with strong audiovisual design that fully immerses players as they navigate through large, open vistas and dense forests. Detailed environments are brought to life with dynamic day-night cycles, as well as ever changing weather conditions, both of which tie into the actual gameplay mechanics. State-of-the-art lighting effects include real-time global illumination as well as a fully volumetric lighting system.
"Lightyears from Home" is being produced by Denny Schneidemesser, a self-taught award-winning composer and recent member of Autodidactic I. The game's soundtrack will be an extended suite of one of his original soundtracks of the same name. Both game and soundtrack will explore deeply emotional themes around being stranded on a foreign planet, the thrill of exploring the unknown lands, and uncovering stories of the past. Thus far, Denny has developed all aspects of the game single-handedly, but as the game expands in scope, he is beginning to seek collaborators to take the game to completion and is working through the Autodidactic Studios subsidiary to do so.
Lightyears from Home is targeted for release in 2020 on PC. A possible port to next generation consoles might be considered later on.
Follow the project:
Official Website: https://lightyearsfromhome.com
Twitter: https://twitter.com/LightyearsGame