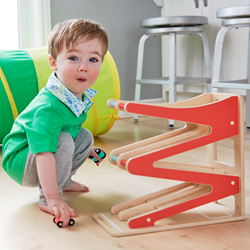 Young children don't need distraction toys or screens in their lives, so we created these Play Kits to give toddlers play experiences they are hungry to learn from.
BOISE, Idaho (PRWEB) May 01, 2019
Award-winning children's goods and early learning company Lovevery today announced the launch of Toddler Play Kits, an expansion of its highly praised subscription box service. The Play Kits by Lovevery, a system of science-backed, sustainably produced play products and need-to-know guidance for parents, are expertly designed to help advance a child's cognitive development. Previously available for infants age 0-12 months, Toddler Play Kits are expertly-designed to foster brain development during the second year of a child's life, months 13-24.
Marrying beautiful and aesthetically pleasing toy design, baby-safe materials, and the modern, preferred mode of consumption -- subscription boxes -- with real, science-backed research from world-renowned scholars in childhood development and Montessori education, The Play Kits have received rave reviews from customers and press alike. TIME Magazine named The Play Kits one of the "Best Inventions of 2018."
The Play Kits serve to help modern parents easily create meaningful playtime moments with their little ones by delivering the essential toys and activities children both want and benefit from for brain development, at exactly the right time. Making cognitive development approachable and readily accessible for the modern parent, each Play Kit also comes with thoughtfully distilled information in the form of The Play Guides. The Play Guides are mini books that walk parents through how to make the most of playtime with their children, backed by all the research today's parents often don't have the time to read.
"Children at this age have an absorbent mind and are sensorial learners. When you tune into what a toddler is drawn to practice -- fitting wooden coins in a slot, pouring milk into their cup, finding a hidden ball, or solving a puzzle that is just the right amount of challenge -- they will enter a state of deep focus and concentration," said Lovevery Advisor and Montessori Adjunct Professor Jody Malterre. "Lovevery designed everything in The Play Kits to support the kind of experiential learning that kids are naturally wired to love."
The four Toddler Play Kits include:
Months 13-15: The Babbler -- Lovevery named this Play Kit 'The Babbler' after the way toddlers love to vocalize at this age. They are learning to communicate more through back-and-forth conversation and are tuning into their surroundings. This Play Kit includes the Slide and Seek Ball Run, a set of Nesting Felt Baskets, an Organic Cotton Rainbow Ball, an Organic Cotton Watercolor Ball, and a Purple Felt Ball, Stella and Her Speedster, a Circles of Friends Puzzle, a Wooden Coin Bank and Coins, a Flexible Wooden Stacker, four books ('Colorful Foods', 'Big & Little', 'Messy & Clean', and 'Where is Crew's Shoe?'), and a Play Guide.
Months 16-18: The Pioneer -- Lovevery calls this Play Kit 'The Pioneer' because toddlers are making so many discoveries about the real world at this stage. They are learning to recognize themselves, explore their surroundings, and try things for the first time. This Play Kit includes an Organic Cotton Big Kid Ball, a Race and Chase Ramp, a Fuzzy Bug Shrub, an It's Me! Mirror, Mouse in an Organic Cotton Sleep Sack, and Play Things To Go Box, a Simon Says Cube and Cards, a Friends of All Shapes Puzzle, a Threadable Bead Kit, two books ('Max and Nana Go To The Park' and 'Things I Can Do'), and a Play Guide.
Months 19-21: The Realist -- This Play Kit is called 'The Realist' after all the ways toddlers at this stage want to participate in real life situations, routines, and rituals. Their interactions with nature, household items, and other objects are developing their senses and understanding of what things are and how they work. This Play Kit includes a Really Real Flashlight, a Community Garden Puzzle, Quilted Critter Pockets and Quilted Critters, The Lockbox and Hideaway Balls, a Grooved Pitcher and Glass, a Wooden Stacking Pegboard, four books ('Being Silly', 'Bedtime for Zoe', 'Leo and Melody at the Farm', and 'Few & Many), and a Play Guide.
Months 22-24: The Companion -- Lovevery named this Play Kit 'The Companion' because toddlers at this stage are learning more about their world alongside others. They are starting to explore how the world works through play. This Play Kit includes a doll named Little Quinn, a Montessori Animal Match, a Carry-Along Kit with Critter Stickers, Scribble Cards and Envelopes, The Buckle Barrel, a set of Large Nesting Stacking Dripdrop Cups, a Mosaic Button Board, Two-Piece Puzzles in a Puzzles To Go Box, Transfer Tweezers and Felt Stars, a Chunky Wooden Jigsaw Puzzle, two books ('Bea Gets a Checkup' and 'Graham Turns Two'), and a Play Guide.
"During the toddler years, your child's brain is craving real world experiences and freedom to explore their environment," said Lovevery Cofounder and CEO, Jessica Rolph. "Young children don't need distraction toys or screens in their lives, so we created these Play Kits to give toddlers play experiences they are hungry to learn from. Even during those times when a toddler seems impulsive or highly distractible, it's amazing how they can still find opportunities for deep focus with these Play Kits."
Unlike Baby Play Kits, which are shipped every other month, Toddler Play Kits ship every three months with fuller boxes. Subscribe to or gift The Play Kits online via lovevery.com at any time during a child's first or second year for just the right playthings at just the right time. For months 13 to 24, each Toddler Play Kit offers a 3-month supply of play products and information, for the same effective monthly rate as Baby Play Kits of $40 per month ($120 when each kit ships). A reduced rate is available when customers pay up front for their subscriptions.
"We are excited to expand our Play Kits offering and grow with our customers into toddlerhood," said Lovevery Cofounder and President Roderick Morris.
ABOUT LOVEVERY
Founded by Jessica Rolph and Roderick Morris, Lovevery was started to help parents feel confident they are giving their baby the best resources they can. Lovevery play products are designed by child development experts and distilled to their simplest, purest purpose: to be exactly what children need at every stage. Taking a science-based approach, Lovevery products have won awards from TIME Magazine, Red Dot, Parents' Choice, and NAPPA. For more information, visit lovevery.com and follow on instagram.com/lovevery.