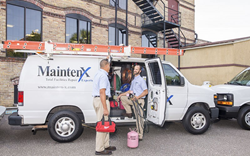 When it comes down to it, the heart of the maintenance issues remains to the same whether you have one tenant or one hundred.
TAMPA, Fla. (PRWEB) May 01, 2019
When it comes to facility maintenance, keeping up with one building and one set of expectations can be a complex challenge. Add in multiple tenants, stakeholders and priorities and things can become even more complicated. MaintenX International, a Tampa-based provider of superior facility maintenance, is an expert in helping facility managers navigate these challenging ecosystems.
"When it comes down to it, the heart of the maintenance issues remains to the same whether you have one tenant or one hundred" said Bill Schaphorst, MaintenX's VP of Business Development. "However, it's critical to take your communication to a higher level when you're dealing with the increased number of stakeholders in a mixed-use community."
Projects that impact other tenants can be difficult to schedule. However, using a skilled facility maintenance provider like MaintenX can help ease the burden of complicated scheduling and conflicting time schedules. That's why PRSM called on Schaphorst as an industry expert to weigh in on the unique challenges of mixed-used developments.
Facility managers can also call upon MaintenX's knowledgeable team at the PRSM 2019 National Conference held in Denver, Colo. This year, MaintenX will have 11 team members on site, ready to answer questions and provide best-practice updates for multi-use facilities.
One important piece of advice when managing mixed-use facilities is to communicate often and effectively. Just as it's essential to form strong relationships between tenants to keep productive communications flowing, MaintenX believes it's equally important to create lasting relationships with clients that have an emphasis on a clear and consistent exchange of information.
To learn more about the services MaintenX offers, visit http://www.maintenx.com.
ABOUT MAINTENX INTERNATIONAL:
MaintenX International is a fully licensed, facilities repair company. As one of the largest national self-performing facility maintenance and repair companies in the U.S., MaintenX has created a wide network of knowledgeable and professional technicians throughout the country. With their team of well-trained technicians, MaintenX self-performs and manages facility maintenance for their clients. In the event there is not a MaintenX technician in an area, the company has established a network of preferred vendor partners throughout the country for continued superior service for their clients. For more than 40 years, MaintenX has been expertly serving multi-location retail stores, restaurant chains and Fortune 500 companies nationwide.