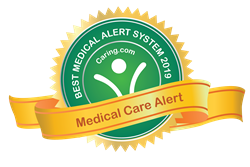 SAN MATEO, Calif. (PRWEB) December 07, 2018
Caring.com, the nation's leading online destination for caregivers, has named Medical Care Alert to its list of top medical alert systems for 2019. The medical alert provider was recognized as the Best for EMT/EMD Certified Monitoring.
Medical Care Alert was one of fourteen companies that qualified for the list based on its demonstration of excellent customer service, transparency, and affordability. With a variety of medical alert systems on the market, this list was developed to help seniors and their loved ones easily identify those with the highest overall value. As a part of the review process, Caring.com identified key features to look for in a system such as waterproofing, fall detection technology, location monitoring, and mobile help button.
"We understand that safety is top of mind when caring for the elderly and that's why we're committed to providing the best medical alert monitoring," says Bryan Stapp, Medical Care Alert President. "All our agents are EMT/EMD-Certified, extensively trained to work with seniors and truly care about the people we serve."
According to the CDC, one out of four older adults fall every year with 20 percent of those falls resulting in broken bones or head trauma. A medical alert system enables seniors to get immediate help in the event of an emergency and provides their loved ones with peace of mind. To see the complete list of top medical alerts systems, visit https://www.caring.com/caregivers/best-medical-alert-systems
ABOUT MEDICAL CARE ALERT
Medical Care Alert is an award-winning service offered by American Response Technologies, Inc. Based in Michigan, the company operates USA based monitoring centers in New York and California with thousands of clients in all 50 States. The family-owned company is dedicated to providing the very best in medical alert monitoring, with the highest quality medical alert equipment, at an affordable price. To learn more, visit https://www.medicalcarealert.com
ABOUT CARING.COM
With millions of website visitors, Caring.com is a leading senior care resource for family caregivers seeking information and support as they care for aging parents, spouses, and other loved ones. Applying cutting-edge technology to its social mission, Caring.com provides helpful eldercare content for caregivers and comprehensive senior living and senior care directories for the United States -- with more than 200,000 consumer reviews and a toll-free referral line at (800) 325-8591. Senior living communities and in-home care agencies may also visit our industry blog for further information: https://partners.caring.com/