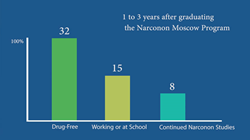 (PRWEB) November 11, 2014
Narconon International recently released, in its first English translation from the original Russian, a medical expertise and evaluation of the Narconon drug rehabilitation program delivered by centers in Moscow, Russian Federation, between 1995 and 1998. The two senior contributors were Dr. Yuri Gurochkin, Professor in the Department of Criminology, Moscow Law Institute, and Dr. N. N. Grigoriev, at the time of the paper Senior Lecturer in Criminology, University of Military Defense, Ministry of Interior Affairs.
The doctors studied the cases of 32 randomly selected Narconon Moscow students. Prior to enrolling in Narconon, these students had been injecting opiate drugs or using methamphetamine. All of them had Hepatitis C histories. "Medical examination of patients before and after the program," says the paper, "shows a considerable improvement of their physical and psychological condition." Further, the authors state in the paper's conclusion, "the program…provides a full solution of the problems related to drug abuse."
Of the 32 Narconon students studied in depth, 87% had been using drugs between 3 to more than 5 years. They ranged in age from 16 to 25 years old. After graduation, nearly half, the paper says, had either found work or returned to school. Eight students decided to continue to study at Narconon Moscow and took on staff positions. All of these 32 had lived stably drug-free lives after the Narconon program.
The expertise also included the results of an informal abstinence survey of the graduates. Of 158 persons who enrolled in one of the Narconon centers in or near Moscow between 1995 and 1998, the paper states, 113 were found to be drug-free from one to three years after graduation -- a 72% drug abstinence rate. This drug-free statistic parallels others tabulated in a Narconon compilation of 40 years of studies, evaluations, and Routine Outcome Monitoring post-graduation surveys of programs both in and outside prison, from Sweden to Berlin, Moscow to Mexico, and across the United States.
Leonid Gedko was one of those in the Moscow case study who chose to continue his Narconon studies after graduation and then joined staff. He is still living drug and crime-free 15 years later. In a recent interview, Gedko had strong praise for Narconon. In the late 1990's, he remembers, drug abuse was skyrocketing. UNODC statistics report a 400% increase in per capita drug abuse between 1995 and 1998.* Gedko said that he personally knew people who had died of AIDs. His own life was a wreck, he said, before he enrolled in Narconon's social education model program. "I was totally irresponsible, criminal and very sick. My nervous system was trashed. I was sick with hangover or drug crash every day. I was a madman." But despite 10 earlier failures with other drug rehab programs, Gedko again found hope, he said, with the help of the Narconon life skills courses. "My greatest gains," he reported, "were at the emotional and mental level. I graduated with the ability to achieve my goals. And I found a lovely wife, with whom I am still happily married."
The Narconon network of drug rehab centers now includes four in Russia and one in Ukraine, as well as 12 drug education and prevention centers in Eastern Europe and the CIS.
The authors of the 1998 Moscow expertise also speak out strongly against what they call "the popular myth that drug addiction is absolutely incurable." Effective treatment, the authors state, would "require treatment should be complex and include not only purification of the organism from toxins, but also restoration of personal moral values, i.e. the ability to differentiate between good and bad, virtue and vice, as well as to communicate with people without discomfort." The paper goes on to describe in detail the Narconon methodology, based on the works of humanitarian and author L. Ron Hubbard, which strives to achieve just that moral renaissance in its students. The expertise decries the pro-drug information campaign of "cool magazines" of the time which instilled in youth the false concepts of "light" and "heavy" drugs. "Out of 100 drug addicts who are on the needle, 95 first tried marijuana," state the Russian authors.
For more information on the Narconon program, please visit http://www.narconon.org. The Moscow expertise can be found in Russian and English at http://www.narconon.org/about-narconon/moscow-expertise-on-rehab-program.html.