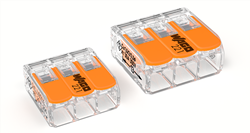 WILMINGTON, Mass. (PRWEB) December 12, 2019
Heilind Electronics, a premier global distributor of electronic components and an authorized distributor for WAGO, is now offering the manufacturer's 221 Series compact splicing connectors. These connectors are 40% smaller than WAGO's 222 Series, providing more junction box space in applications like lighting and home automation.
221 Series connectors are not only compact, but are also constructed with transparent housing for safe installation. The user-friendly design is enhanced by two test slots, recessed side walls and an easy-to-use operating lever for tool-free termination.
One of the main advantages of the 221 Series is its flexibility. The connectors accommodate a wide range of wire sizes, providing connections for solid, stranded and flexible wires from 24 to 10 AWG. They are also completely reusable.
Included in WAGO's 221 Series are 10 AWG UL-listed connectors, designed to accommodate larger conductors and a higher charge of 600 V. These units are ideal for high-power lighting, signal systems and commercial HVAC systems.
Visit Heilind's website for more information about WAGO LEVER-NUTS 221 Series compact splicing connectors.
About Heilind Electronics
Heilind Electronics, Inc. (http://www.heilind.com) is one of the world's leading distributors of connectors, relays, sensors, switches, thermal management and circuit protection products, terminal blocks, wire and cable, wiring accessories and insulation and identification products. Founded in 1974, Heilind has locations throughout the U.S., Canada, Mexico, Brazil, Germany, Singapore, Hong Kong and China. Follow Heilind on Facebook at facebook.com/Heilind and on Twitter at twitter.com/Heilind.
About WAGO
WAGO is a global leader of spring pressure electrical interconnect and automation solutions, with innovative products for the packaging, transportation, process, industrial and building automation markets. Among WAGO's many innovations are wire and splicing connectors, which provide fast, maintenance-free installation in numerous interconnect applications.