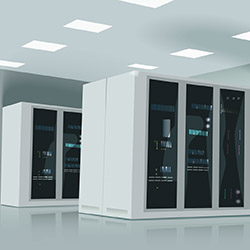 "Power outages are an inconvenience for consumers, but they can be catastrophic in the mission-critical sector, wreaking havoc on the likes of data centers, hospitals and transportation systems."
TAMPA, Fla. (PRWEB) December 10, 2018
A recent Uptime Institute survey found global data center outages have increased 6 percentage points since last year,(1) and power failures appear to be the primary culprit.(2) Another industry study revealed the cost per outage rose nearly 50% from 2010 to 2016.(3) Silent Partner Group of Companies (SPGC) and its associates—premier providers of hyper-efficiency data centers and collocated power plants—propose that off-the-grid (OTG), hybrid energy sources offer an effective solution to the outages that continue to plague data-center operators and customers.
The Uptime Institute report had some good news for an industry frequently accused of excessive energy consumption: data-center power efficiency improved markedly from 2007 to 2018. During that time, average power usage effectiveness (PUE)—a metric that should be as close to 1 as possible—steadily dropped from 2.5 to 1.58.(1) Yet while efficiency has improved, outages have also risen. The percentage of respondents who experienced an IT downtime incident or severe service degradation within the past year increased from 25% in 2017 to 31% last year, and nearly half of respondents reported having at least one outage within the prior three years.(1)
According to the Uptime Institute survey, power outages were the leading cause of these incidents worldwide, impacting 33% of respondents.(2) A 2016 study by the Ponemon Institute had similar findings; it revealed the most common root cause of U.S. data center outages was an uninterruptable power supply (UPS) failure, cited by 25% of respondents.(3) The survey also examined average cost and duration of data center outages. From 2010 to 2016, the mean cost of unplanned shutdowns jumped 46.5%, from $505,502 to $740,357, while the average duration only dipped from 97 to 95 minutes.(3)
"Power outages are an inconvenience for consumers, but they can be catastrophic in the mission-critical sector, wreaking havoc on the likes of data centers, hospitals and transportation systems," said Dale Hobbie, CEO of Silent Partner Group of Companies. "When you consider what's at stake for these types of institutions, it's clear that relying solely on a local power grid is not an option. That's why we believe data centers should use off-the-grid power as their primary energy source."
The United States alone experienced 3,526 blackouts in 2017; these power outages collectively impacted 36.7 million people, and each lasted an average of 81 minutes.(4) Given that unplanned data center outages cost an average of $8,851 per minute,(3) data-center operators and clients can't afford the uncertainty of grid-based power. This dilemma led Hobbie and his associates to pioneer the development of Hyper-Efficiency, Off-the-Grid (HE-OTG) Data Centers paired with collocated (onsite) hybrid power plants. Their concept aims to lower the average PUE and eliminate downtime, while offering greater control over energy production and fuel sources.
To meet the industry's growing demand for sustainable, environmentally friendly solutions, Hobbie advocates for renewable energy production, thermal energy reuse, maximum carbon capture and emission controls. For example, SPGC's collocated power plants reclaim waste gases and reuse them as a fuel source, making them the most decarbonized or even carbon-negative facilities in the world. In addition, SPGC uses a mix of renewables and cleaner-burning fuels—such as natural gas, propane and recaptured biomethane—for both primary and secondary fuel sources, avoiding the problem of relying on a single supply chain for their fuel source. Triple energy redundancy within their systems helps eliminate downtime; in the event of any issues with the primary fuel sources, power switches to a long-life UPS battery system and then to a state-of-the-art hybrid backup generator system with battery storage, with the local electric grids as a fourth-tier backup.
Ultimately, Hobbie says that improving the power efficiency of data centers minimizes the energy required to run them, while generating electricity onsite helps prevent the power failures that are the leading cause of data center outages. "Hyper-efficiency, off-the-grid data centers with collocated, green-energy power plants have set the bar for reliability, sustainability and cost-effectiveness. Implementing these designs in hyperscale facilities will help the industry keep pace with the world's ever-expanding data demands, now and in the future," Hobbie concluded.
Silent Partner Group of Companies supports every phase of the collocated, HE-OTG data center lifecycle, from project planning and development, to financing and procurement, to construction, operations and maintenance. For more details on SPGC's turnkey, hyper-efficiency data center platforms and collocated power plants, visit https://www.spgc.us.
About Silent Partner Group of Companies™
Silent Partner Group of Companies (SPGC) and its associates are redefining the world's data/energy dynamic, setting the industry bar as the single, global source for Hyper-Efficiency, Off-the-Grid (HE-OTG™) Data Centers with triple-redundant collocated power plants. Headquartered in Tampa Bay, Florida with international offices in Sofia, Bulgaria and Fredrikstad, Norway, SPGC and its associates aim to provide mission-critical data centers with an unprecedented level of reliability, security and sustainability. Founder Dale Hobbie has 35 years of expertise in budget-minded risk management and process-minded execution; he and his team provide fully turnkey engineering, design, procurement and construction. Every SPGC data center features fiber redundancy and renewable energy production with carbon capture and emission controls, delivering world-class computing power with a carbon-neutral/carbon-negative footprint and ongoing cost savings. Other distinctions include high-efficiency heating and cooling systems, innovative modular racking systems, state-of-the-art software, and the industry's most progressive security and control platforms. To learn how SPGC is revolutionizing worldwide data centers and power production, visit https://www.spgc.us.
1. Uptime Institute. 2018 Global Data Center Survey; August 2018.
2. Patrizio, Andy. "Data Center Power Efficiency Increases, But So Do Power Outages"; Network World; August 15, 2018.
3. Ponemon Institute and Vertiv. Cost of Data Center Outages: Data Center Performance Benchmark Series; January 2016.
4. Eaton. "Eaton's Annual Blackout Tracker Report Shows 36.7 Million People Affected by More Than 3,500 Power Outages in 2017"; press release issued March 22, 2018.