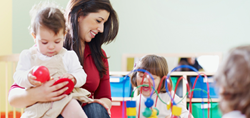 DESOTO, Texas (PRWEB) August 27, 2018
With nearly half of children under the age of five in the United States in some form of childcare for an average of 35 hours a week, the day care business has become big business. In fact, in 44 States the average day care costs are currently higher than the average public college tuition. To ensure they are offering the best day care facility solution Palomar Modular Buildings has spent the last few years working with day care operators across North America to gain the insight needed to refine their building designs. The Palomar day care building designs start with the advantages offered by modular buildings, versatile cost-effective, rapid deployment structures, and are further augmented by all the amenities day care facility operators requested to create a clean and safe environment to provide day care.
Palomar's engineering department has been busy fine tuning day care building floor plans based on feedback from facility operators. The new floor plans meet the need for temporary extra housing capacity, expansion projects, or complete new facilities from the ground up. For unique building requirements Palomar's dedicated team of engineers will develop floor plans specifically to meet the most stringent project specifications.
The Palomar Modular Building advantage, along with their innovative commercial floor plans, provides North America's entrepreneurs with an environmentally-friendly, low waste, healthy, cost-effective structure in a fraction of the time compared to conventional construction.
About Palomar Modular Buildings
Palomar Modular Buildings manufactures advanced modular buildings for a range of industries including office, retail, healthcare, education and workforce housing. Our state-of-the-art manufacturing facility in DeSoto, Texas, staffed with a dedicated full-time workforce of skilled tradesmen and production managers has produced hundreds of modular projects from simple additions to complex new facilities.
# # #
If you would like further information about this press release or to schedule an interview with Gary Taylor, please contact Gary Taylor at gtaylor(at)palomarmodular(dot)com or call 1-866-312-4032.