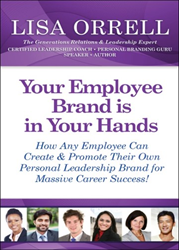 Creating and managing a unique Personal Brand as an 'employee in the workforce' is a critical component to success and something that highly successful Leaders and Executives focus on daily.
San Rafael, CA (PRWEB) April 22, 2014
Lisa Orrell is globally recognized as The Generations Relations & Leadership Expert. She's an in demand Speaker, Thought Leader, Media Guest, and the Author of three top-selling business books: "Millennials Incorporated"; "Millennials into Leadership"; and "Boomers into Business". And her new fourth book, "Your Employee Brand is in Your Hands: How Any Employee Can Create and Promote Their Own Personal Leadership Brand for Massive Career Success!" (Wyatt-Mackenzie Publishing) was just released to rave reviews plus 5-star ratings on Amazon.
.
"Most books on Personal Branding are written for self-employed people to help them grow their businesses. But creating and managing a unique Personal Brand as an 'employee in the workforce' is a critical component to success and something that highly successful Leaders and Executives focus on daily," explains Orrell. "For several years, I've been conducting a very popular Personal Branding workshop for employees, as well as for college students. My new book is a direct result of that workshop, along with the constant inquiries I got from people asking if I could recommend a good book on this topic. But I struggled to recommend one because there are very few out there, so I wrote one."
Adds Orrell, "I have one particular client, a very large global corporation, who has hired me to conduct my Personal Branding Workshop over 20 times. So, obviously, not only do their employees benefit from this topic and my training, their company does, too. The bottom line, for any company, is there's no downside to having employees with heightened self-awareness and a willingness to improve themselves."
Steven Rothberg, President and Founder of the niche job board, CollegeRecruiter.com, shares this about Lisa's book, "Most consumers prefer to buy brands that we know, like, and trust. In many cases, we're also willing to pay more for those brands. Yet most of us don't think of the fact that in our places of employment we have our own 'personal brands'. Some of those brands are positive, some are neutral, and some are negative. So if you want the people making the decisions about your career and compensation to know, like, and trust you then you need a positive brand, and Lisa's book will show you exactly how to make that happen."
"Your Employee Brand is in Your Hands" is also gaining attention due to the aging Baby Boomer population in the workforce, along with the fact that Millennials are getting moved into leadership roles younger and faster than generations before them. In many of her Personal Branding Workshops Orrell says she sees employees ranging from their early 20's to their late 60's.
To that point Orrell explains, "Most Boomers buy my new book or attend my workshops to determine how to stay 'relevant' and redefine themselves at work. Whereas many Millennial employees want to learn how to: stand out at work; gain notoriety in their industry; and learn how be taken seriously so they can move up the ladder into management and leadership roles. They are very serious about being successful in those positions, yet a lot of Millennials don't feel their employers have prepared them to succeed in those roles. And according to extensive research conducted by firms like Deloitte, they're right."
In addition to her Personal Branding expertise, Orrell is consistently booked to conduct presentations on topics such as: Understanding generational dynamics at work; improving communication across the generations; educating Leadership Teams on workforce trends; improving the recruitment, management and retention of Millennial (aka: Gen Y) Talent; and educating Millennial employees, and college students, on how to be young, effective, respected leaders in the workforce.
A small sample of Orrell's stellar client list includes: Wells Fargo, Johnson & Johnson, eBay, Chicos, State University of New York, USC, Intuit, Pepsi, Applied Materials, Paul Mitchell Schools, PayPal, Blue Cross/BlueShield, and Monster.com. Orrell is also hired to speak for a wide variety of Professional Associations that cater to members in HR, Leadership, Management, Training, and Diversity roles.
For media interviews, speaking inquiries, or book information, please contact Lisa Orrell at 408-340-8789 or Lisa@TheOrrellGroup.com or visit her website: TheOrrellGroup.com. To receive a 25% discount on bulk book orders of 10 or more, please contact Lisa Orrell directly. A Kindle version will be available on May 1st, 2014.