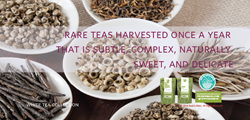 I love the smell of Pooki's Mahi's White Coconut Crème tea. Very impressed with the CEO's transition as an exec from high tech companies into starting a food & beverage brand using knowledge learned while at Fortune 100 Silicon Valley based corporations.
San Francisco, CA (PRWEB) May 06, 2014
Silicon Valley etailer startup of award-winning teas and brown rock sugar and San Francisco's 2013 Food & Beverage winner, Pooki's Mahi, announced today the launch of Pooki's Mahi's White Tea Collection and White Tea Fusions Collection. The collections fulfill customers' requests for flavorful but not a strong set of teas.
Customers provided feedback to Pooki's Mahi and a Customer Advisory Board for over a year before launching a pilot of the two collections last year. Pooki's Mahi's customer base wanted teas that were full of aroma and that were not as strong as teas in the Black Tea Fusions Collection.
"I love the smell of Pooki's Mahi's White Coconut Creme tea. It reminds me of being on a beach on a tropical island. I met Les Magsalay-Zeller, Founder/CEO of Pooki's Mahi at the 65th Emmy's Celebrity Red Carpet event," says former Chicago Bears Quarterback Jim McMahon. He continues, "Very impressed with her story transitioning as an executive from a high tech company into starting a food & beverage brand using the knowledge she learned while in Fortune 100 Silicon Valley based high tech corporations. Les is a bundle of energy and very focused on the providing high end products at an affordable price for Pooki's Mahi. Can't wait to see the next phase of Pooki's Mahi."
The teas in the White Tea Collection are rare and harvested once a year. The teas have a subtle taste, complex, naturally sweet and delicate.
The teas in the White Collection are:
-Halo Tea
-White Fur Silver Needle Tea: Harvested only a few days each spring. It is the highest grade of white tea and one of the rarest teas in the world. Silver Needle's clear, delicate, nectar-like infusion has an evanescent sweetness and a mellow, lingering finish. This blends organic silver needle with jasmine blossoms creating an incredible floral aroma. Steeps a light golden infusion with a taste of jasmine and orchid. White tea contains the highest antioxidant level of all teas and is known for its detoxifying, stress-relieving and mood-lifting properties.
The teas in the White Tea Fusions Collections are also rare, use white tea as a base and infused with a super fruit combination. Functional blends of acai berries, black currants, pineapple, spicy peppercorns, blueberries, coconut, lavender, mint, and mangos are mixed with the white tea to form unique aromas and flavors. There are five teas in the White Tea Fusions Collection: Cinnamon Spice Duchess Tea, Dark Berry Blast Tea, Blue Fruit Bomb Tea, White Coconut Crème Tea and Wild Floral Blossoms Tea.
Not all teas are brewed the same. Pooki's Mahi's suppliers improved the formula and packaging for these teas. Teas now come in a handy reusable standup pouch that include brewing instructions for each specific tea and ingredient list. The new packaging utilizes icons to assist customers in identifying key information such as caffeine level, number of cups served and allergy warnings. Customers make informed buying decisions.
Pooki's Mahi's Halo Tea and White Fur Silver Needle teas are available online now and can be purchased as a tea subscription and as part of Pooki's Mahi's Customer Referral Program, which offers rewards and discounts for new customer referrals. Free shipping is including in non-subscription purchases and subscription plans.
The Academy Awards ® is a registered trademark of the Academy of Motion Picture Arts and Sciences®. The Gift Suites where Pooki's Mahi's products are show cased are not authorized by and is not associated with the Academy of Motion Picure Arts and Sciences®, The Academy Awards®, or any of its official partners or vendors.
About Pooki's Mahi:
Pooki's Mahi is a Silicon Valley-based etailer offering exotic Hawaiian coffees, award-winning teas, sweeteners, gourmet salts, macadamia nuts and other specialty food products at reasonable prices. Since its online launch in 2013, Pooki's Mahi products have been a favorite of customers, charities, celebrities and athletes and have been featured at red carpet events including Celebrity Gift Suites and Celebrity Poker tournaments. The products have been endorsed by many celebrities and athletes and seen on several television shows. Most recently Pooki's Mahi products can be seen on the show "Boys Before Friends," which airs on Viki.com.
Pooki's Mahi, founded by Silicon Valley High Tech Executive Leslie Magsalay-Zeller, started with exotic coffees rated 95+ by Coffee Review from the world's champion roastars and baristas and teas rated 90+ points by World Tea Ratings from the world's champion brew masters. Today, their product offerings include a deluxe assortment of macadamia nut products, drink sweeteners like brown rock sugar, various gourmet salts and mcuh more. For more information on Pooki's Mahi selection of exotic coffees, teas and other gourmet food products, visit http://www.pookismahi.com. To keep up with Pooki's Mahi news an access special offers, join our email list and follow us on Facebook and Twitter (@pookismahi).
Contact Information
Pooki's Mahi
Pr(at)pookismahi(dot)com