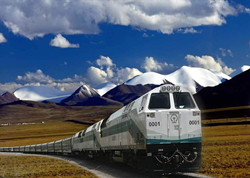 Go to experience the world's highest railway with the top online Tibet tour operator, Tibet Travel Org CITS.
Tibet (PRWEB) April 29, 2014
Qinghai-Tibet Railway, the highest railway on the planet, is the most scenic and popular tourist route in China. Tibet Travel Org CITS, the biggest local tour operator, answers the top five questions on taking a train to Tibet.
1. Is taking a train to Tibet the right way to get acclimatized to high altitude?
Many people believe that taking a train to Tibet can help them gradually adapt to the high altitude. It is a big mistake. All the trains to Tibet are equipped with two oxygen supply systems. One is used for increasing oxygen content in all carriages; the other is directly used by passengers when they need. Therefore, it is almost like traveling at low altitudes. However, the whole journey with wonderful scenery at different altitudes is undoubtedly impressive. In addition, it is much cheaper than flying to Tibet.
2. Which is the best city to take a train to Tibet?
At present, there are trains to Lhasa starting from seven cities in mainland China, including Beijing, Shanghai, Chengdu, Chongqing, Guangzhou, Lanzhou and Xining. They are great places to easily start a train tour to Tibet. Travelers can also board a train to Lhasa in other big cities, like Shijiazhuang, Nanjing, Zhengzhou, Xi'an and Taiyuan. But in these cities, they only have two or three minutes to board the train. It is not easy for travelers with heavy luggage. Hence, it is better to board the train at the starting station. If travelers want to take the shortest train ride to Lhasa, Xining is the best city, where they also have wider choices because all the trains to Lhasa stop at Xining for ten or twenty minutes.
3. Is it safe to go to Tibet by train?
Before Qinghai-Tibet Railway was built, some people questioned its safety, fearing that the permafrost along the route could never support tracks and trains, and that lack of oxygen could be fatal. Up till now, the railway has been in safe operation for eight years. No changes have been observed in the frozen earth along the route. The oxygen supply systems on the train provide sufficient oxygen. Meanwhile, first aid is also available. Policemen on the train serve around the clock to ensure passengers' safety.
4. How to book train tickets to Tibet?
Generally, the easiest way is through the official website of China Railway Bureau (12306.cn). After booking a ticket successfully online, one will get a code. Then he can exchange it for a paper ticket with his passport at the departure station or a train ticket office in the departure city. But the entire website is in Chinese and there is a length limit on names. Thus, foreigners may be confronted with some difficulties. If they are in China, they can purchase a ticket with their passport directly from a train ticket office. Otherwise, it is best to book train tickets through a travel agency. For a hot tourist line like Qinghai-Tibet Railway, it is very hard to get a ticket in the peak season. Not all travel agencies can guarantee the tickets, but Tibet Travel Org CITS can.
5. Are there tourist trains to Tibet? Are private compartments available?
Most of the time, there are only passenger trains to Tibet. During the peak season (between May and October), some cities may open tourist trains. Last year, Qingdao and Xining opened tourist trains to Lhasa. Shijiazhuang, a city very close to Beijing, will launch tourist trains to Lhasa in the coming May.
Actually, there are no significant differences between passenger and tourist trains. Both offer opportunities to view the fabulous scenery along the world's highest railway. Private compartments are also available if one travels with three or five friends or family members. They can buy tickets of the same compartment. In a soft-sleeper compartment, there are four bunks. In a hard-sleeper compartment, there are six.
About Tibet Travel Org CITS
Tibet Travel Org CITS (http://www.tibettravel.org), the top online Tibet tour operator, annually sends more than 1,000 individual travelers and over 100 tour groups to Tibet. It helps travelers to obtain the Tibet Travel Permit, book air/train tickets to Tibet and customize their tours. The company also keeps updating latest information about Tibet on Facebook (tibettravel.org) and twitter (@TibettravelOrg).