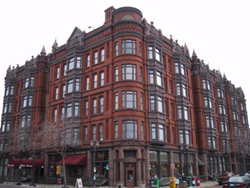 Saint Paul, MN (PRWEB) February 23, 2016
Micoley.com is thrilled to publicize the auction of Lot 101371, a condo located in the historic Blair House property in Saint Paul, MN. The property is found at 165 Western Ave N #405 and is within walking distance of many city amenities. It is only minutes away from highway commuting.
Blair House was built in 1887 and features beautiful woodwork and classic tile floors in its hallways. The condo is approximately 1,050 square feet, and contains two bedrooms and one bathroom. Other features include timeless, easy-to-maintain hardwood floors, a wood-burning fireplace, exposed brick walls, and in-unit washer/dryer hookups. There's a monthly association fee of $440, and pets are welcome. Check with the association for details regarding pets.
Saint Paul is hailed as "the most livable city in America" and offers endless things to do from winter recreation to museums, festivals, events, parks, golf, and so much more. The city is "the king of winter," thanks to events such as the U.S. Figure Skating Championships, Big Ten Men's Ice Hockey Tournament, Saint Paul Winter Carnival, Red Bull Crashed Ice World Championships, and Beer Dabbler Winter Carnival, among other festivities. There is also ice skating, sledding hills, and plenty more exciting recreational opportunities.
Yet another reason to consider living in Saint Paul is the vibrant culture and history. The Cathedral of Saint Paul is the most elaborate building of its kind in the U.S., having been modeled after St. Peter's Basilica at the Vatican in Rome. The city features 104 landmarks listed on the National Register of Historic Places, as well as a vibrant music and arts scene. NPR's famous Prairie Home Companion is also recorded in Saint Paul.
Lot 101371 is listed for $249,900, with an opening bid of $195,900. The property may be sold at any time prior to its February 24th auction, so contact Micoley.com today to learn more about this glorious condo.
About Micoley.com:
Micoley.com was created to "transform the real estate industry," and functions in conjunction with W.M. Enterprises, Inc. President and CEO, Wade T. Micoley has served as a real estate industry leader for over 30 years, and continues to provide marketing solutions to his wide range of clients.
"Today we serve the real estate community in both the banking and private sectors with customized, accelerated marketing programs," says W. Micoley. "Programs can be tailored for financial institutions, commercial and corporate clients as well as the individual property owner to help face our current and unpredictable economic environment. As a result of our aggressive marketing plan, Micoley has successfully assisted many clients across the United States."
For more on available properties, please contact Micoley.com today.