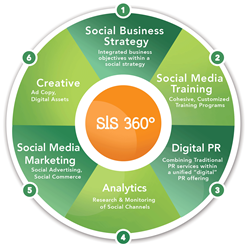 400% Growth Ignites SayItSocial's Agency Expansion
Wilmington, North Carolina (PRWEB) October 17, 2013
SayItSocial, a full service digital agency, has announced an enhanced offering of services, as represented in their SIS 360™ proprietary model. A long-time, globally recognized leader in delivering Social Business Strategy and Enterprise Training, the agency now adds Digital PR and Creative services to their portfolio. The SIS 360™ approach is representative of the firm's proven methodology to social business; connecting all of their services in an integrated, metrics-driven deliverable.
SayItSocial experienced 400% growth in 2013 as US and global enterprise companies showed a widespread demand for customized; social business strategies and implementation. Thus far in 2013, two Fortune 100 & 200 partnered with SayItSocial, in addition to several Fortune 500-5000 organiztions to achieve social business objectives. Client requests have played a part in expanding the firm's offerings for 2014. "Companies are no longer debating the necessity of a social business strategy – they are need qualified professionals to assist them in development, execution and implementation of their strategies", mentions Ty Downing, CEO. Emily Trayers, SVP, echoes: "The integration of these new offerings in the SIS 360 model will further advance our clients social business objectives."
The announcement of SayItSocial's refreshed capabilities is aligned with the return of Tim Moore, one of the original co-founders of SayItSocial. "Tim has always been part of our company and I'm thrilled to have him back with us advising our clients on what's next in social and digital business", comments Downing. Tim has led multiple companies to profitable success and partnered with leading global brands in the lifestyle, sports and entertainment industries. "Because of his vast experience with digital, mobile and retail strategies, Tim brings strong insight and creative energy that has ignited the entire team" adds Trayers.
Most recently, Tim has founded Venture Glass, a wearable technology company and was chosen by Google for their Google Glass project. He's also recently been identified as an "emerging thought leader in mobile and wearable technologies" according to Forbes, which brings new retail ideas to the table.
With Tim at the leadership helm and the new capabilities receiving widespread praise, Downing notes that this is likely the most exciting time for the six year-old start-up. "We are excited. The energy is flowing. We thrive on creating new and innovative strategies and techniques for our clients and next year will be one of continued growth." He also added "Oh yes, and we are hiring... check our website for details"
About: Founded in 2008, SayItSocial is a globally recognized leader in Social Business Strategy and Training for Enterprise corporations. Offering Monitoring & Research, Digital PR, Social Media Marketing and Creative, the agency has worked with a multitude of Fortune 100 – 5000 clients.
Media Inquiries: emily(dot)trayers(at)sayitsocial(dot)com