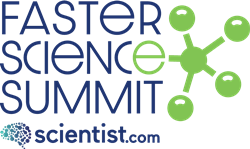 "Whether through innovative technologies, crowdsourcing or online marketplaces like Scientist.com, our industry needs to look in new directions if it hopes to continue finding cures for the world's diseases."—Dan Kagan, PhD, Scientist.com's COO
SAN DIEGO (PRWEB) May 01, 2019
Scientist.com, the online marketplace for outsourced scientific services, today announced the successful completion of its first-ever company-hosted conference, the Faster Science Summit: Innovations and Disruptions. The event took place on April 16, 2019 in downtown Boston and featured keynote speaker Bernard Munos, a panel of industry experts, content-specific workshops, a supplier awards ceremony and a new product launch.
"Much hard work went into bringing together thought leaders in the life science research community to discuss ways of disrupting traditional R&D," said Dan Kagan, PhD, Scientist.com's COO. "Whether through innovative technologies, crowdsourcing or online marketplaces like Scientist.com, our industry needs to look in new directions if it hopes to continue finding cures for the world's diseases."
Bernard Munos, noted speaker and author, delivered a keynote speech that addressed the need for big pharma to expand capacity and use new approaches such as crowdsourcing to create a more cost-effective approach to medical research. This was followed by a panel discussion entitled, "Making Innovation Part of the Pipeline" that included representatives from top 25 pharma as well as several well-known contract research organizations (LifeCanvas Technologies, GVK BIO and Mimetas). In recognition of its outstanding customer service, All Cells, LLC was named Supplier of the Year, and IQ Proteomics received the honor of Small Business Supplier of the Year.
A Scientist.com Original Service, Trial Insights, was also unveiled at the conference. Exclusively available through Scientist.com, Trial Insights curates publicly-available clinical trials data from at least seven different sources, including ClinicalTrials.gov, and presents useful metrics in an easy-to-navigate, customizable online dashboard. Updated nightly, Trial Insights is used by researchers, pharma consultants, venture capitalists, non-profits, patients and more, to guide key pre-clinical and clinical decision-making.
About Scientist.com
Scientist.com is the world's leading marketplace for outsourced R&D. The marketplace simplifies R&D sourcing, saving time and money, reducing risk and providing access to the latest innovative tools and technologies. Scientist.com operates private enterprise marketplaces for most of the world's major pharmaceutical companies, the Biotechnology Innovation Organization (BIO) and the US National Institutes of Health (NIH). Since its founding in 2007, Scientist.com has raised $32 million from 5AM Ventures, Leerink Transformation Partners and Heritage Provider Network among others. Visit scientist.com to learn more.
Join Scientist.com on social media: YouTube, LinkedIn, Twitter, Facebook and - Instagram.
Media Contacts:
Sean Preci
Director of Communications
+1 858 455-1300 ext. 401