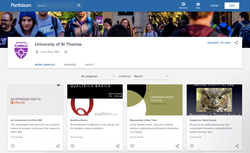 The seamless integration with Canvas, our learning management system, was the icing on the cake
San Diego, CA (PRWEB) August 08, 2017
Portfolium, an ePortfolio network that enables students to capture, curate, and convert skills into job offers, announced today that they have partnered with the University of St. Thomas in Minnesota. The school is launching a new two-year college and selected two Portfolium products - Career Readiness and Portfolium Assessment – for their digital toolkit.
Founded in 1885 by John Ireland, archbishop of Saint Paul and Minneapolis, the University of St. Thomas is a Catholic comprehensive urban university that emphasizes values-centered, career-oriented education for its more than 10,000 students. Students may choose a program from more than 90 majors and 60 minors, 41 master's degrees, a juris doctor and five doctorates. A new associate of arts degree will be offered through the Dougherty Family College, starting fall 2017.
"This fall marks the launch of Dougherty Family College, a two-year college providing the associate of liberal arts degree to students with a high level of financial need," said John Kinsella, Instructional Technologist for the University of St. Thomas. "From a student perspective, Portfolium will encourage students to reflect on their new skills while allowing them to showcase work samples to potential employers. From an institutional perspective, we chose Portfolium for its unique ability to measure the skills earned at a variety of levels and better evaluate the career readiness of our students. The seamless integration with Canvas, our learning management system, was the icing on the cake."
"Portfolium will help the students of University of St. Thomas showcase their academic and co-curricular achievements and connect with potential employers," said Troy Markowitz, VP Partnerships at Portfolium. "Our ePortfolio network enables the accurate measurement of learning and career readiness like no other technology available on the market today."
With free-for-life access to students and alumni, Portfolium serves as a perfect channel for students to reach potential employers while encouraging lifelong learning throughout their career.
ABOUT PORTFOLIUM: Portfolium is the world's fastest growing learning and career development network. 2,000+ colleges, universities and high schools use Portfolium to manage and align competency assessment, student success, and career readiness programs. Portfolium's academic solutions plug students into an open ecosystem of employers, mentors, educators, and peers around the world. Our 3.5M+ users are linked to internships, jobs, and lifelong learning opportunities via ePortfolios that showcase their proven competencies. To learn more about Portfolium's network for learners and solutions for educators, visit: https://portfolium.com/educators