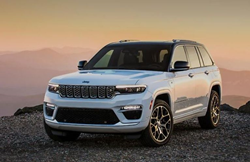 STONY PLAIN, Alberta (PRWEB) November 25, 2021
With fewer new cars being rolled out across dealerships in North America this year due to the global semiconductor chip shortage, finding the latest models can be challenging. However, Edmonton and Stony Plain residents in the market for the latest cars can find new arrivals, including 2022 models, at the region's popular Stony Plain Chrysler dealership.
The foremost Chrysler, Dodge, Jeep, and RAM dealership in the area has new models arriving daily at its state-of-the-art showroom and invites interested parties to check out its regularly updated inventory.
Some popular new additions to the Stony Plain Chrysler dealership inventory include the updated 2022 Jeep Grand Cherokee L, 2022 Jeep Compass, 2022 Jeep Wagoneer, and 2022 Jeep Grand Wagoneer, with more 2022 Jeep models expected to arrive soon. The recent arrivals at the Stony Plain Chrysler dealership include the 2022 RAM pickup truck lineup, including the 2022 RAM 1500, 2022 RAM 2500, and 2022 RAM 3500. The dealership has also welcomed the 2022 Chrysler Pacifica minivan recently.
Apart from the 2022 models, customers can find all the 2021 model year Chrysler, Dodge, Jeep, and RAM vehicles, including the sought-after 2021 Jeep Grand Cherokee, 2021 Jeep Wrangler, and 2021 Jeep Gladiator pickup truck along with 2021 RAM 1500 pickup truck, 2021 Dodge Challenger and 2021 Dodge Durango SUV.
The Stony Plain Chrysler dealership has the latest models arriving daily and updates its inventory regularly. The dealership expects the much-awaited 2022 Jeep Grand Cherokee 4xe Plug-in Hybrid (PHEV) to join its showroom lineup soon.
Interested customers looking for the latest Chrysler, Dodge, Jeep, and RAM vehicles in the region may make appropriate inquiries by visiting http://www.stonyplainchrsyler.ca. Buyers can also call or text the Stony Plain Chrysler dealership on 587-760-1500 or visit the dealership showroom in person. The Stony Plain Chrysler dealership is located at 4001, 51 Street, Stony Plain.