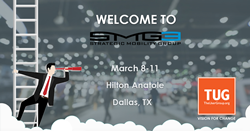 SCHAUMBURG, Ill. (PRWEB) March 13, 2020
Strategic Mobility Group, LLC (SMG3), a leading provider of innovative technology solutions, successfully concluded another TUG Connects show yesterday on Wednesday, March 11th.
Held at the Hilton Anatole in Dallas, Texas, attendees had over 200 breakout sessions to choose from to learn about topics of their choosing and have networking opportunities with knowledgeable people. Along with that, our enterprise solution experts spent the 4-day event educating attendees about Strategic Mobility Group at their booth. They showed the versatility of hardware they offer to their customers with various demonstrations of these devices' capabilities from the applications they support to their rugged, physical nature.
Being one of the only hardware providers at a predominantly software trade show, SMG3 was able to show TUG Connects 2020 attendees how they can assist in improving their business, coupled with all the other software and services exhibiting on the show floor.
"I want to personally thank everyone that was able to stop by our booth this year," said President and CEO of SMG3, Nancy Gorski. "We wanted to convey how much we can offer to businesses with our flexible selection of services and hardware we provide, and we definitely feel we were able to do that with all the great conversations we had with the attendees at our booth."
As a TUG Connects 2020 sponsor and partner of ASW, SMG3 was also a part of an engaging raffle during TUG. Their involvement in this raffle activity sparked lively conversation with attendees that visited the SMG3 booth, leading to their consultants offering a glimpse into what SMG3 could do for them. At TUG Connects, infor users get together for critical training, relevant user and industry presentations each year. It stands as the premier expo for all things Infor Distribution, along with providing time for valuable networking.
"The User Group Connects is an excellent platform to learn from others and gain a better understanding about Infor capabilities," Gorski commented. "With the industry's technology continuing to develop and grow, TUG Connects is a great place for Strategic Mobility Group to continue to learn from our peer companies and be a leader in modern hardware for workforces with efficient solutions to streamline operations," concluded Gorski.
To schedule an appointment with SMG3 to discuss what was demonstrated at TUG Connects 2020, please visit https://strategicmobility.com/contact/ or call 847.995.1010.
About SMG3
Strategic Mobility Group (SMG3) was founded by Nancy Gorski, Nico Genet, and Eric Holmes as an innovative technology provider that designs and integrates mobile solutions for enterprises. We consult companies on how to operate more efficiently through the use of mobile hardware, software, professional services, and support. It is our job to keep businesses up-to-date on the latest technology and provide them with innovative solutions that will maximize efficiency both inside the four walls and out. One of the best parts is, unlike other mobile technology providers, SMG3 supports our customers with a suite of services: site surveys and evaluations, custom device configurations, staging/kitting, training, technical support, and more. Helping businesses improve operational efficiencies and ROI is why many of the Fortune 500 companies choose SMG3 to manage their enterprise mobility needs. Learn more about us at: http://www.strategicmobility.com.