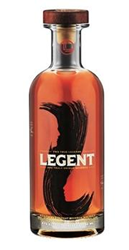 CHEYENNE, Wyo. (PRWEB) March 12, 2019
When two civilizations clash, the results can be really amazing. In this case, we are talking about two of the world's most-revered, award-winning whiskey makers. Beam Suntory proudly announces the launch of the super-premium bourbon Legent™, which is a collaboration that marries the U.S. and Japan. Whiskey enthusiasts can purchase this one of a kind bourbon from CaskCartel.com
Fred Noe, Jim Beam's seventh-generation Master Distiller, and Shinji Fukuyo, Suntory's fifth Chief Blender, joined forces and created a unique bourbon that takes full advantage of both master's knowledge, skills and techniques. Amazing things can be achieved when two great cultures come together as one, sharing a unified vision to bring true innovation and best-in-class spirits to the world.
The distilling and mashbill is homegrown, true to the core of bourbon principles, while the road from barrel to bottle benefits of Shinji's imaginative and meticulous blending techniques.
The unique Legent bourbon is aged in newly charred white oak barrels and some extra-aged in wine and sherry casks. The result is a rounded and balanced bourbon that is layered, complex, well-balanced on the palate with a bright, smooth and surprisingly long finish.
Tasting Notes
Layers of spice and fruity undertones are imparted from the sherry casks, while the red-wine casks lend Legent whiskey a light tartness and help punch up the dried fruit flavors.
It's a perfectly balanced and rounded bourbon that's also complex and layered. On the palate it starts like a bourbon – rich, warm and oaky. Then like a Japanese whiskey, it features complex layers and a bright, smooth, unexpectedly long finish.
Purchase Legent Kentucky Bourbon from CaskCartel.com!
About Master Distiller Fred Noe
Since his birth, Master Distiller Fred Noe's life has revolved around the distillery in one way or another. Always looking for new challenges, Legent was a chance to do something that nobody's ever done before. Create a unique bourbon by taking everything from his family's 220 years of making bourbon and combining it with the craft of Japanese blending
About Chief Blender Shinji Fukuyo
From Japan to Scotland to Kentucky, Chief Blender Shinji Fukuyo has traveled the world over learning, studying and perfecting the art of blending whiskey and distilling spirits. For him, Legent presented numerous unique challenges. Bourbon isn't a spirit that's blended routinely. He also wanted to honor Fred's family heritage and produce a unique bourbon of the highest quality. After years of tasting, testing and refining the recipe with Fred, Legent has become another step in Shinji's pursuit of mastery.
About Cask Cartel
Cask Cartel was founded in 2014 and brought online in 2018. It is a company that comprises a team with over 4 decades of experience in the alcohol beverage industry. Cask Cartel has extensive relationships with Producers and Brands across the US and the rest of the world that brings its customers first access to limited productions and allocated items. Considered as an E-Tailer giant in the industry they've developed an E-Premise Marketplace that's transforming the way premium spirits are shopped sold and fulfilled online by combining the widest range of selection of premium spirit beverages including allocated items and limited releases.