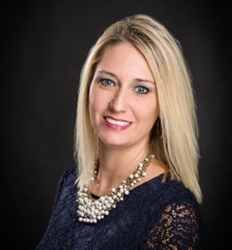 Her leadership skills, experience and track record of success will help pave the way in the next exciting chapter that our company is about to write.
MEDIA, Pa. (PRWEB) March 21, 2019
Title Alliance, Ltd, a RESPA-compliant ESOP leader in joint ventured title insurance agencies, announced today it has appointed Lindsay Smith as Chief Strategy Officer for the company. The announcement comes after the recent appointment of Maria Deligiorgis as General Counsel and Compliance Officer and Sharon Lontoc as Chief Human Resources Officer for the company, marking the company's third C-Suite announcement within the last two weeks.
A graduate of LaSalle University, Smith joined Title Alliance in 2005 and has held multiple roles throughout her tenure with the company ranging from Project Manager to Director of Sales and Marketing. Smith, additionally, has had responsibility for all Western Growth within Title Alliance since 2015, doubling their portfolio's profits annually under her leadership in Arizona and New Mexico. As Chief Strategy Officer, Smith will be responsible for assisting Title Alliance's CEO, Jim Campbell, in developing, communicating and executing both corporate and JV strategic initiatives as the company continues to move forward with a significant growth trajectory.
"Lindsay's incredibly strong communication skills, her passion to deliver exemplary results combined with her strategic mindset make her a natural fit for this role" says Jim Campbell, CEO of Title Alliance. "Our company is poised for another extensive growth spurt thanks to Lindsay's efforts. Her leadership skills, experience and track record of success will help pave the way in the next exciting chapter that our company is about to write." Campbell concludes, "I'm looking forward to continuing to work with Lindsay in her new role and I know that she will represent our company well as we navigate the challenges and opportunities in our ever changing market."
Smith will focus on developing strategies to strengthen their family of companies and to position them for success. Her emphasis will be on overall growth, communication and strategic development from both a corporate and joint venture perspective. Through implementation of the company's strategy both internally and externally, Smith will ensure that all employees, partners, and vendors understand the company-wide vision and goals so that all work in alignment. Smith will be accountable for positioning the company for strategic growth, by entering into new markets and saturating the existing markets with joint ventured relationships. Smith will be prominent within the industry as the company's representative at industry events including trade shows, conferences, seminars and others identified to maintain and build relationships and continued organizational presence.
"My passionate commitment to making a difference in both the lives of our partners and team members is what fuels me. That's always been my 'Why'." says Smith, "We are in the business of forming partnerships that provide opportunities for Brokers and their Agents to have passive income streams while controlling the closing process. And with each new company we set up there is an opportunity to impact the lives of more potential employees through the creation of jobs, to allow our partners to have additional revenue streams and to ultimately grow our ESOP which impacts all of our team members." She concludes, "In this role, I look forward to thinking strategically to allow our company to enter into unexplored territories and to enhance the customer experience in order to have the greatest possible impact."
Smith joins Chief Executive Officer, Jim Campbell; Chief Financial Officer, Lillian ReDavid; Chief Human Resources Officer, Sharon Lontoc and General Counsel and Compliance Officer, Maria Deligiorgis as the senior most leadership team providing collective guidance and governance over Title Alliance and their family of companies.
Smith can be reached at lsmith@titlealliance.com.
About Title Alliance:
Title Alliance, Ltd, an ESOP Company is located in Media, PA and has been creating RESPA compliant title joint ventures since 1983 with lenders, mortgage bankers, realtors, builders and credit unions. Their roots date back to 1948 when their first agency, which is still in existence today, was formed. For more information or to find out how a Title Alliance partnership or title management skills could benefit you visit them online or contact Lindsay Smith at 800-220-3901 x 165.