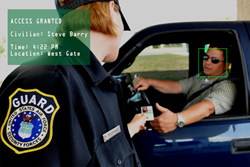 We're excited by the opportunity to bring our American-made computer vision solutions to Air Force bases where it can make a difference in protecting our military
LOS ANGELES (PRWEB) May 01, 2019
Trueface has been accepted into the Air Force Small Business Innovation Research (SBIR) program by AFWERX, who is leading the initiative to foster innovation and accelerate partnerships between the Air Force and businesses working at the cutting edge of technology. The stated goal of AFWERX is "to cut costs while creating a conduit between industry, academia and the Air Force to speed development and testing of software and materials prototypes."
Trueface believes the Air Force can benefit from its facial recognition and threat detection technologies, bolstering security at air bases throughout the world. Two officers have already publicly described how facial recognition technology would be advantageous, reducing the cognitive workload of base security forces as they process and monitor individuals at entry points and perimeters.
'AFRL and AFWERX have partnered to streamline the Small Business Innovation Research process in an attempt to speed up the experience, broaden the pool of potential applicants and decrease bureaucratic overhead. Beginning in SBIR 18.2, and now in 19.1, the Air Force has begun offering 'Special' SBIR topics that are faster, leaner and open to a broader range of innovations.'
"We're excited by the opportunity to bring our American-made computer vision solutions to Air Force bases where it can make a difference in protecting our military," said Shaun Moore, CEO of Trueface.
About Trueface
Trueface is a leading developer of computer vision and facial recognition solutions. The company's technology is platform agnostic, capable of running on embedded chipsets, servers, desktops, and at the edge. Solutions include Facial Recognition, Spoof and Liveness Detection, Threat Detection, Age Verification and License Plate Recognition. Developed in the USA, Trueface has built its business with privacy and data compliance at its core. Through the responsible use of computer vision technology, we will all live in a safer and smarter world. For more information, visit http://www.trueface.ai.
About AFWERX
Established in 2017 by the Secretary of the Air Force and reporting to the Vice Chief of Staff of the Air Force, AFWERX is a catalyst for agile Air Force engagement across industry, academia and non-traditional contributors to create transformative opportunities and foster an Air Force culture of innovation. The ultimate aim is to solve problems and enhance the effectiveness of the Air Force. For more information, visit http://www.afwerx.af.mil/.