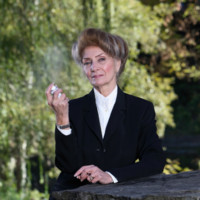 GRANTS PASS, Ore. (PRWEB) March 23, 2019
Date aired: March 18th, 2019
Guest: Robert Weir
Earth Day, the current popular name we give to the ageless vernal equinox, is marked by global celebrations heralding the return of spring. Water Life Science® mentor and dry eye expert Sharon Kleyne, host of the internationally syndicated weekly The Sharon Kleyne Hour Water Life Science®/Nature's Pharma®, The Power of Water® & Your Health sponsored by Nature's Tears® EyeMist® on VoiceAmerica produced by Rose Hong, founder/director of Global Dragon TV in Washington, D.C., recently welcomed international traveler, author and speaker Robert Weir to the program to talk about Earth Day and the importance of water to life on earth.
"Of all the water on earth," says Water Life Science® and dry eye researcher Kleyne, "only three percent is usable and only one percent is fresh." That's why Dry Eye Solution® creator and Water Life Science® lifestyle modeler Kleyne invested millions of dollars into research to prove that pure, fresh water is essential to all life on earth.
"Water covers 70 percent of our world," adds Weir, author of Peace, Justice, Care of Earth and 15 other books. Weir, who has traveled extensively and considers himself a citizen of the world adds, "It's the only essential element on earth." Yet, one in every three people on earth lives in water-poor countries. That is why celebrations of water and the natural world are so important. "Nature-based celebrations are natural to us," says Weir. "Celebrations help us tap back into the rhythm of a butterfly's wings, the rhythm of a breeze, the rhythm of running water and the oceans, the rhythm of life."
"A healthy life," confirms Water Life Science® innovator and dry eye foe Kleyne, "depends on being in natural rhythm with the rhythm of the universe and earth."
In Sumerian culture, for instance, what we call Earth Day marked the Goddess Inanna's (later Ishtar) return from the Underworld. The ancient Greek myth of Demeter and her daughter Persephone is an almost identical tale around which celebrations are held every year. The Jewish Passover and the Christian Easter are vernal equinox (or Earth Day) celebrations. In many Arab countries, what we call Mother's Day is celebrated on the vernal equinox. Earth Day, in other words, has been with us for centuries, at least since the beginning of recorded history.
Not surprisingly the United Nations several years ago set aside an international Day of Happiness that falls near the vernal equinox. As dry eye expert Kleyne and Weir point out, one can measure success by happiness, not by money. Inter-generational connectivity, sharing, empathy, spiritual and personal growth are all elements of happiness, and the happiness resides in the water.
"To experience happiness," says Water Life Science® teacher Kleyne, progressive health education must reach every person on the planet, and each person must be more proactive about individual health. Without water, peace, happiness and coming together, we won't be able to live healthy lives and make sure that earth will be here for eternity," adds Water Life Science® lifestyle inventor and dry eye activist Kleyne.
*
If you would like to listen to the talk radio program featuring the conversation between Robert Weir, author of 16 books and world speaker and traveler and dry eye expert and Power of Water® talk radio host and Water Life Science® lifestyle and dry eye educator Sharon Kleyne about water habits, Water Life Science®, the vernal equinox (Earth Day), World Water Day, the United Nations, water health education and global happiness, follow this link: https://www.voiceamerica.com/episode/113926/encore-encore-32513-earth-and-world-water-day-with-robert-weir