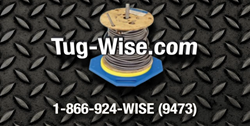 A superior cable management system is now available for purchase online and can be shipped nearly anywhere.
Slave Lake, AB (PRWEB) March 04, 2014
Tug-Wise Manufacturing Inc, a Canadian cable spool manufacturer, is now offering online ordering for their proprietary line of cable and wire management systems. Jim Emes, owner of Tug-Wise, was an electrician for more than 30 years before devising a cable reel holder that can be used out in the field to replace jack stands.
The company has recently expanded their proprietary line of wire and cable management systems. They offer high quality products ranging from a heavyweight cable spool that can handle up to 10,000 lbs reels to a smaller cable reel job or for residential purposes. Their cable reel holders, rollers, and stands are an easier and safe way to handle spools when you are out on the job.
This wire management system is now available for online ordering. This gives electricians everywhere a leg up on the efforts of running cables. It is tough work and time consuming to organize the jacks, and then to need multiple jacks in order to run multiple lines at the same time. While the Tug-Wise cable management system allows for a single person to run wire safely while on the job site in any weather condition.
The company is also now offering international shipping for their standard, deluxe and heavy duty models, so that this cable reel holder can be used on any job site around the world. This system brings more value to your cable management applications and allows you to get the job done quicker. The product is easily mounted to the bottom of any wooden or plastic reel for trouble-free cable pulls. The unit can also thread a 1/2″ removable stem into the base and be stood upright for seamless 360° pull for residential wiring.
Whether you're using small, medium, or large reels you can find an ideal unit to suit your needs and any specification requirement. Each model features rugged design that is suitable for the indoor and outdoor conditions while working on a site. The units are also easy to mount and they efficiently promote trouble-free cable pulls and can now be shipped everywhere.
Related News:

Related Search Phrases:
[Wire Management System] [Cable Management System] [Tug-Wise] [Breaking News] [Google Trending] [Cable Reel Holder] [Jack Stands]
Related Hashtags:
#Cable #Wire #BreakingNews #TugWise #GoogleTrending #Electricians #Management #Alberta #Worldwide