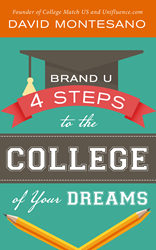 Leading College Admission Experts David Montesano and Robin Pool offer a Preview of College Application Academy on May 10th in Palo Alto
PALO ALTO, Calif. (PRWEB) May 01, 2019
On Friday, May 10th from 6:30pm-7:30pm at the Palo Alto Arts Center (1313 Newell Rd, Palo Alto). David Montesano, President of College Match US, and Robin Pool, former Princeton admissions officer, will give parents of college-bound juniors and seniors and their students easy-to-implement tips, tricks, and techniques to boost a college application from average to excellent. http://www.collegematchus.com
For prospective high school seniors, summer is a welcome break from schoolwork before the start of another busy year. However, one task that must not be postponed this summer is applying for college. It has been widely reported that an unprecedented rise in college application submissions is dramatically reducing the chances of admission to the nation's most selective colleges, making it essential to be fully aware of the range of alternatives and to stand out from the crowd with a first rate application. This can be an overwhelming prospect to the student already juggling a busy academic and social schedule, but we would like to offer an alternative to these potential months of stress and anxiety.
During our free seminar, we will be introducing an intensive, three-day College Admission Academy on August 5th through 8th and throughout the summer one-on-one. In only 3 days students will have:

Developed a final list of target schools, designed to match the strengths of the student's application profile.
Polished all of their application essays and personal statements.
Submitted their applications to most or all of the schools on their list.
In other words, students who attend the Academy can be done with their college applications before the start of senior year. Moreover, based on our track record, Academy participants can take comfort in the knowledge that they will have more than a 90% chance of being admitted to at least one of their top choices.
The free informational seminar on May 10th will provide an overview of the upcoming Application Academy, explaining why the college admissions process has become so competitive and what solutions we can offer. If you're unable to attend, we are also available for consultation via email or phone. Please call or email us david(at)collegematchus(dot)com soon to reserve your place at the seminar or if you have any other questions about the Application Academy.
In a refreshing alternative to dire warnings of dwindling admissions rates, the seminar will be positive, proactive, and full of inspiring and instructive examples of students at all levels of achievement. Attendees will learn about the Montesano method, which uses four steps - Sparks, Fire, Vision, Brand - to craft an application that makes colleges want to say "yes." Montesano and Pool will also discuss how students can identify perfect-fit colleges and position themselves to meet the colleges' needs. Attendees will leave with concrete suggestions to address problem spots, overcome weak points, make good into great.
According to Montesano and Pool, "Most parents and students have no idea how to bulletproof their college applications over the summer, but this seminar will give them the keys. Those three months are a gold mine of opportunity if you just know what to do with them. It could be the difference in top-choice admissions and thousands of dollars of scholarships."
Space is limited, so students and parents should email their RSVP to david(at)collegematchus(dot)com as soon as possible to reserve a place. The first 15 contacts to respond will receive a free 20-minute consultation on SAT/ACT standardized testing strategy. Visit https://www.yourstepstocollege.com/how-it-works for more details.
David Montesano is founder of College Match U.S. In 2019, for the 18th year in a row, 95% of David's clients applying for admission to colleges secured places at their first-choice college or university. Furthermore, a majority of David's clients won merit scholarships averaging $83,000 per student over four years—the largest amount among students whose awards are being measured. Termed a "new breed" of college admissions consultant by The Washington Post/Newsweek, David has contributed to articles in The New York Times, U.S. News & World Report's "Best Colleges" publication, Forbes, CBS Moneywatch, Seattle Magazine and Newsweek/Daily Beast. Appearances include Stanford Business School, USC, CBS-TV, Fox News, and on radio shows and webcasts, Boston's College Week Live. David is the author of two books—"Brand U: 4 Steps to the College of Your Dreams" and "Stand Out to Get In!"—in which he details his Montesano Method for college admissions. http://collegematchus.com
Robin Pool served as Admissions Officer at Princeton University. With 20 years of experience in college admissions, advising more than 3,000 students and reading 12,000 essays, Robin's unique psychological approach leverages the college admission process to stimulate her students' personal growth, self-knowledge, and life-management skills. Robin graduated magna cum laude from Princeton University with a degree in Art History where she was a recipient of the Grace May Tilton Prize.
Social Media Links for College Match:
https://www.facebook.com/collegematch/
https://www.linkedin.com/feed/
https://www.youtube.com/channel/UCvVxZ5AtVHg6cyfzL4cFzYw
https://twitter.com/collegematchus?lang=en