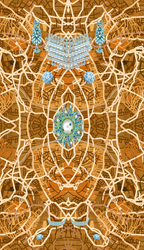 SAN FRANCISCO (PRWEB) August 15, 2018
The Mary and Carter Thacher Gallery at the University of San Francisco (USF) opens its 20th exhibition season with "Allan deSouza: Through the Black Country…" on view from September 4-November 4, 2018. Opening events will take place on Tuesday, September 4, 3-6 p.m., featuring a conversation between artist Allan deSouza and Professor John Zarobell (3-4 p.m., Maraschi Room) followed by a reception in the Thacher Gallery. Additional programs available on the website.
Using maps, photographs, diary entries, and a recreated base camp, this inventive, layered work by artist Allan deSouza reenacts and upends iconic colonial narratives of discovery in Africa.
"Through the Black Country, or, The Sources of the Thames Around the Great Shires of Lower England and Down the Severn River to the Atlantic Ocean" recounts the expedition of Hafeed Sidi Mubarak Mumbai, a fictional explorer searching for the source of the River Thames. Mumbai is the imagined great grandson of historic figure Sidi Mubarak Bombay, a formerly enslaved African who, upon gaining his freedom in India, lead numerous British expeditions across Africa. Mumbai's expedition begins in May 2016. His travels send him through the refugee camp known as "The Jungle" in Calais, France and continue into England during the Brexit vote. The exhibition was curated in collaboration with the artist by Allyson Purpura, senior curator and curator of Global African Art, Krannert Art Museum, University of Illinois.
About Allan deSouza
Allan deSouza is a multi-media artist whose photography, installation, text and performance works restage historical evidence through counter-strategies of fiction, erasure, and (mis)translation. His work has been exhibited extensively in the U.S. and internationally, including SF Camerawork (US), Pompidou Centre (France) and the Gwangju Biennale (Korea). In addition to his art practice, deSouza is chair of the Department of Art Practice at the University of California, Berkeley. His writings have been published in various journals, anthologies, and catalogues. His book, How Art Can Be Thought, is available from Duke University Press in October 2018.
About the Thacher Gallery
Celebrating its 20th year, the Thacher Gallery is a public art gallery in the University of San Francisco's Gleeson Library where creativity, scholarship, and community converge. The gallery is free and open to the public daily 12-6pm. Located at 2130 Fulton Street. Phone: (415) 422-5178. Website: https://www.usfca.edu/thacher-gallery
About the University of San Francisco
The University of San Francisco is located in the heart of one of the world's most innovative and diverse cities and is home to a vibrant academic community of students and faculty who achieve excellence in their fields. Its diverse student body enjoys direct access to faculty, small classes, and outstanding opportunities in the city itself. USF is San Francisco's first university, and its Jesuit Catholic mission helps ignite a student's passion for social justice and a desire to "Change the World From Here." For more information, visit https://www.usfca.edu