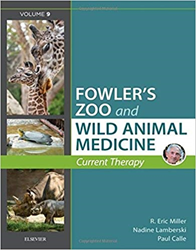 Dr. Harman and many others consider Dr. Murray Fowler the "Father of Zoological Medicine" and thus it was a great privilege to be asked to contribute.
POWAY, Calif. (PRWEB) August 07, 2018
Dr. Robert Harman, CEO and founder of VetStem Biopharma, co-authored a chapter about stem cell therapy for zoo animals in Fowler's Zoo and Wild Animal Medicine Current Therapy, Volume 9. Dr. Harman and many others consider Dr. Murray Fowler the "Father of Zoological Medicine" and thus it was a great privilege to be asked to contribute.
As the first company to provide adipose derived stem cell services to veterinarians across the United States and Canada, over 14,000 animals have been treated with VetStem Regenerative Cell Therapy. In addition to working with numerous equine and small animal veterinarians, Dr. Harman has worked with veterinarians from Zoological Parks, Marine Mammal Parks, and the United States Navy Marine Mammal Program.
Dr. Harman co-authored the chapter entitled "Stem Cell Therapy in Zoo Medicine" with Dr. Matthew Kinney of the San Diego Zoo Safari Park. The topics covered include a description of stem cells and their mechanism of action, methods of stem cell collection, and stem cells in clinical medicine and zoo medicine. The chapter concludes that mesenchymal stem cell use in zoological medicine is in its infancy; however, with the combination of basic scientific research, domestic animal and human clinical trials, as well as initial work in zoologic animals there is great hope of broadening the potential applications of stem cell use as a therapeutic modality to improve the health of all animals.
Dr. Harman has been a leader in the field of regenerative medicine for over a decade and presents at both human and animal medicine conferences around the world. He most recently spoke in Costa Rica at the second annual International Regenerative Medicine Conference. He applies his biotechnology and veterinary experience in the clinical application of stem cell therapy for various types of injuries, illnesses, and other healing-promoting applications. Dr. Harman has authored 14 peer-reviewed articles and book chapters, including the chapter on stem cell therapy in zoo animals.
About VetStem Biopharma, Inc.
VetStem Biopharma is a veterinarian-lead Company that was formed in 2002 to bring regenerative medicine to the profession. This privately held biopharmaceutical enterprise, based near San Diego (California), currently offers veterinarians an autologous stem cell processing service (from patients' own fat tissue) among other regenerative modalities. With a unique expertise acquired over the past 16 years and 14,000 patients treated by veterinarians for joint, tendon or ligament issues, VetStem has made regenerative medicine applications a therapeutic reality beyond the realm of research. The VetStem team is focused on developing new clinically practical and affordable veterinary solutions that leverage the natural restorative abilities present in all living creatures. The Company's stated mission being "to extend and enhance the lives of animals by improving the quality of recovery in acute conditions, but also by unlocking ways to slow, stop and ultimately revert the course of chronic diseases." In addition to its' own portfolio of patents, VetStem holds exclusive global veterinary licenses to a portfolio of over 70 issued patents in the field of regenerative medicine.