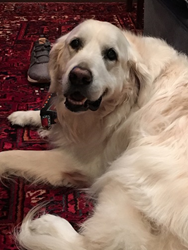 I will definitely do it again when he needs it. His quality of life is so much better. What a miracle!
POWAY, Calif. (PRWEB) July 16, 2019
At nearly eleven years old, Seve, a white Golden Retriever, began showing symptoms of discomfort in his back legs. According to his owner, in the last year or so, he was a little "gimpy" and occasionally his back legs would go out from under him. His veterinarian, Dr. Cindy Echevarria of VCA University Animal Hospital in Dallas, diagnosed him with severe osteoarthritis in his hips and recommended treatment with VetStem Cell Therapy.
Seve's owners decided to move forward with stem cell therapy and in a minimally invasive surgical procedure, Dr. Echevarria collected fat from Seve's abdomen. The fat tissue was packaged and shipped in a temperature-controlled container to the VetStem laboratory in Poway, California. Once received, the fat was aseptically processed and injectable doses of Seve's own stem and regenerative cells were created. Three doses were shipped to Dr. Echevarria and approximately 48 hours after the fat collection, Seve received one injection into each hip and one injection intravenously.
According to Seve's owner, keeping his activity restricted while he healed was not easy but ended up being well worth it in the end. His mom, Sallie, said he showed dramatic improvement. She stated, "I will definitely do it again when he needs it. His quality of life is so much better. What a miracle!"
Dr. Cindy Echevarria has been VetStem Credentialed since 2015. She has provided VetStem services for nearly 40 patients, including Stuart and her own dog, Bella.
Stem cells are regenerative cells that can differentiate into many tissue types, reduce pain and inflammation, help to restore range of motion, and stimulate regeneration of tendon, ligament and joint tissues. In a peer-reviewed study of dogs with chronic osteoarthritis of the hip, it was found that stem cells reduced lameness and pain.
About VetStem Biopharma, Inc.
VetStem Biopharma is a veterinarian-lead Company that was formed in 2002 to bring regenerative medicine to the profession. This privately held biopharmaceutical enterprise, based near San Diego, California, currently offers veterinarians an autologous stem cell processing service (from patients' own fat tissue) among other regenerative modalities. With a unique expertise acquired over the past 15 years and 17,000 treatments by veterinarians for joint, tendon or ligament issues, VetStem has made regenerative medicine applications a therapeutic reality. The VetStem team is focused on developing new clinically practical and affordable veterinary solutions that leverage the natural restorative abilities present in all living creatures. In addition to its own portfolio of patents, VetStem holds exclusive global veterinary licenses to a large portfolio of issued patents in the field of regenerative medicine.