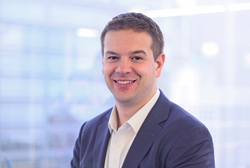 Chicago (PRWEB) September 13, 2018
Mike Santoro, president of Walker Sands, an integrated PR and digital marketing agency for B2B technology and professional services companies, has been recognized with the 2018 Vistage Member Excellence Leadership Award. Santoro was selected as the winner by a pool of over 800 Chicagoland Vistage members for his strong leadership at Walker Sands and within the Chicago community, managing a rapidly growing company, developing innovative solutions and supporting talented professionals across disciplines.
Vistage is the world's leading CEO peer-advisory organization, honoring members for their high achievements in leadership. Members embody Vistage's values of trust, care, challenge and growth, having directed positive initiatives that benefit their companies, families and communities.
Santoro was nominated by fellow member Sarah Thurber, CEO of FourSight and supported by Vistage Chair, Jerry Folz. This led to the selection from the entire Chicago Vistage community for his authentic leadership skills in and out of the office.
"I am so glad to see Mike honored by the Chicago Vistage community," says Folz. "Members of our group want to emulate Mike because he is the total package: he displays curiosity, makes difficult decisions, absorbs feedback and always does what's best for his business. Most importantly, he's a devoted husband and an engaged father. It's easy to understand why Mike and Walker Sands continuously win awards and experience positive growth."
Santoro has been the president of Walker Sands for just over 10 years and has seen the agency through massive growth, having expanded from Chicago into Seattle and San Francisco, with clients based around the world. The firm has been recognized as a Bulldog Reporter Small Agency of the Year, a finalist for the Holmes' Report's North American Technology Agency of the Year and is a six-time Inc. 5000 honoree as one of America's fastest growing companies.
At an individual level, Santoro has been honored with PRSA Chicago's PR Professional of the Year award, as a Direct Marketing News' 40 under 40 recipient and as one of EY's Entrepreneur of the Year finalists in the Midwest. In addition, Mike is the co-founder of the Little Giraffe Foundation, a Chicago based non-profit dedicated to supporting neonatal research and preemie families in the NICU. Since 2011 the foundation has funded nearly $175,000 in medical research and NICU support grants.
"It's an incredible honor to be named the winner of this year's award. The business leaders in Vistage have accomplished tremendous achievements throughout Chicago, and I'm thrilled to be considered among this powerful community and represent Walker Sands," says Santoro. "I wouldn't be where I am today without the amazing team that has stood behind me at every point in my development, and they've truly enabled me to succeed at work and in the Chicago community. I'm proud of the business we've built and I'm excited to see how we continue this momentum moving forward."
For more information on Vistage, visit http://www.vistage.com.
About Walker Sands
Walker Sands is a public relations and digital marketing agency for business-to-business technology companies. With an integrated approach to creative services, Walker Sands helps clients build brand awareness, enhance credibility and drive new business. Walker Sands is a six-time Inc. 5000 honoree and regular recipient of some of the industry's most prestigious awards from organizations including Entrepreneur, Holmes Report and Hermes Creative. Walker Sands was founded in 2001 and has offices in Chicago, San Francisco and Seattle. To learn more, visit walkersands.com or walkersandsdigital.com.
About Vistage Worldwide, Inc.
Vistage Worldwide is an organization designed exclusively for high-integrity CEOs and executive leaders who are looking to drive better decisions and better results for their companies. Our members — 22,000 strong in more than 20 countries — gather in trusted, confidential peer advisory groups where they tackle their toughest challenges and biggest opportunities. Leveraging the Vistage platform, our members have demonstrated the ability to refine their instincts, improve their judgment, expand their perspectives and optimize decision-making. CEOs who joined Vistage in the past five years grew their companies 2.2 times faster than average small and midsize U.S. companies, according to a 2017 analysis of Dun & Bradstreet data. Learn more at Vistage.com.