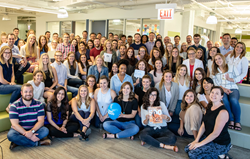 CHICAGO (PRWEB) August 15, 2018
Walker Sands an integrated PR and digital marketing agency for B2B tech and professional services companies, has earned the 3,892 spot on Inc. Magazine's list for the 5000 fastest-growing companies in the U.S. Walker Sands' collaborative approach to PR and digital marketing has led the firm to be named to the list for the sixth year in a row, an accomplishment that only six percent of companies have ever achieved.
In the 37th annual Inc. 5000, the fastest-growing private companies in America are recognized based on year-over-year revenue growth. Companies across a variety of industries, including technology, retail and advertising/marketing, are chosen for their entrepreneurial innovation, creativity, inspiration and proven growth.
"It's been a big year for us, and we've further established our foothold as a leading B2B agency," says Mike Santoro, president of Walker Sands. "We couldn't have done it without our driven, dedicated employees and the amazing work that they're doing. They have been fundamental in the success and growth of our company."
In this past year alone, Walker Sands has expanded its client roster to include fast-growth innovators in tech such as Nintex and Uptake, hired 37 new employees and opened an office in Seattle, which will have five employees by the end of August. The agency has also launched two major research reports in recent months, The Future of Retail 2018 and State of Marketing Technology 2018, demonstrating Walker Sands' commitment to continually building a strong foundation of expertise across domains.
In addition to being featured in the Inc. 5000 list, Walker Sands was also named the No. 13 company in Crain's 2018 Best Places to Work in Chicago as well as the 2018 Best Small Agency to Work For by The Holmes Report. Additionally, the organization has experienced rapid growth for demand generation services with revenues growing by more than 147 percent in the past year alone.
"As we further establish ourselves on the West Coast and build out our agency across departments, skills and teams, I know that we will be able to tackle this next phase of growth" furthers Santoro. "I'm incredibly excited to continue this momentum and explore new and innovative ways to best service our clients and industry as a whole into 2019 and beyond."
For the full 2018 Inc. 5000 list, please visit http://www.inc.com/inc5000. To learn more about Walker Sands and its growing team, visit walkersands.com.
About Walker Sands
Walker Sands is a public relations and digital marketing agency for business-to-business technology companies. With an integrated approach to creative services, Walker Sands helps clients build brand awareness, enhance credibility and drive new business. Walker Sands is a six-time Inc. 5000 honoree and regular recipient of some of the industry's most prestigious awards from organizations including Entrepreneur, Holmes Report and Hermes Creative. Walker Sands was founded in 2001 and has offices in Chicago, San Francisco and Seattle. To learn more, visit walkersands.com or walkersandsdigital.com.
About Inc. Media
Founded in 1979 and acquired in 2005 by Mansueto Ventures, Inc. is the only major brand dedicated exclusively to owners and managers of growing private companies, with the aim to deliver real solutions for today's innovative company builders. Winner of Advertising Age's "The A-List" in January 2015, and the National Magazine Award for General Excellence in both 2014 and 2012. Total monthly audience reach for the brand has grown significantly from 2,000,000 in 2010 to over 40,000,000 today. For more information, visit http://www.inc.com/.
The Inc. 5000 is a list of the fastest-growing private companies in the nation. Started in 1982, this prestigious list of the nation's most successful private companies has become the hallmark of entrepreneurial success. The Inc. 5000 Conference & Awards Ceremony is an annual event that celebrates their remarkable achievements. The event also offers informative workshops, celebrated keynote speakers, and evening functions.
For more information on Inc. and the Inc. 5000 Conference, visit http://conference.inc.com/.