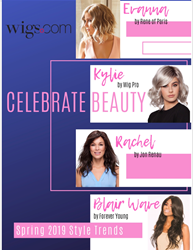 DALLAS (PRWEB) May 01, 2019
Wigs.com, one of the largest online hair and wigs retailers in the world, has released today its spring "Mood Board" with four trending styles that all women can enjoy in the spring 2019. The top wig selections came from different designers such as Rene of Paris, Wig Pro, Jon Renau and Forever Young.
"In a climate where we're all focused on diversity and unity…we want to celebrate beauty. All women, all people actually, want to feel and look their best," said Carliz Sotelo Moore, CEO and co-founder of Wigs.com. "The 2019 spring wig trends are a way for Wigs.com to recognize and deliver versatile styles for all women, of every background, to experience," she added.
Each wig style suits all types of women because the boundaries of color or hair texture are being erased with the new wigs being manufactured today. Anyone can wear any wig in any category. The density, textures and colors of many of the top brands are making sure their wigs are made for everyone.
The spring styles highlighted this year include:

In addition, a recent partnership between Breastcancer.org and Wigs.com to educate and empower women who suffer from hair loss makes purchasing the spring 2019 styles on the Wigs.com website a little easier. Wigs.com is offering 10% off through a special coupon, BC10. The special coupon can be applied during checkout at http://www.wigs.com. For each purchase, Wigs.com will donate 10% of the proceeds to Breastcancer.org.
For more information about the spring 2019 wig trends, you can visit Wigs.com.
About Wigs.com
For more than 20 years, Wigs.com 'The Wig Experts' have been committed to helping clients find the best wigs, hairpieces and extensions. Whether new to wearable hair or not, Wigs.com offers practical tips and guides to help make the right choices. With a team of experts in the alternative hair industry, Wigs.com offers the best selection of brands and styles. Wigs, hair pieces and hair extensions have the power to make the wearer feel confident, beautiful and empowered to face the world.
About Carliz Sotelo Moore
Carliz Sotelo Moore co-founded Wigs.com in 1999. After working hard to create one of the most popular wig websites in the world from the ground up Carliz and her team turned their focus on education and helping people find their beautiful both inside and out! She has been a wig wearer and passionate advocate of wearable hair for every woman. Hailed as one of the top wig experts in the industry, Carliz's passion and mission is to provide a convenient, supportive, and educational platform for those who are affected by hair loss or looking to feel better about their hair. She has a desire to help women in their journey to wearing and learning about alternative hair.