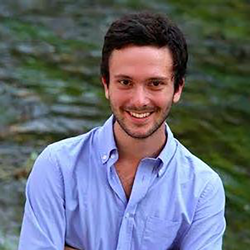 "Tim Doner is iconic in the language world. His language skills are almost beyond comprehension. He will help drive FluentWorlds to new heights and put it among the greatest language learning companies of the world."
SALT LAKE CITY and NEW YORK (PRWEB) March 14, 2019
Fluentworlds, provider of the world's most sophisticated and flexible 3D virtual platform for language immersion, announced that Timothy Doner has joined the company as vice president of strategy and business development.
Doner is a recent Harvard graduate who has been described in the media as "the world's youngest hyperpolyglot" – someone who speaks dozens of foreign languages. An avid student of the Middle East, he is proficient in both Arabic and Persian and has studied languages as far afield as Swahili, Russian, Mandarin and French.
At the age of 16, Doner became an instant celebrity when a video of him speaking 20 languages accumulated millions of hits. He has since achieved similar success with a viral TEDx Talk (3.4 million views) and a feature in the THNKR PRODIGIES series (8.5 million views).
"It's a privilege to join the FluentWorlds team," Doner said. "Since joining the company's advisory board in 2015, I've seen the product grow from a simple idea to a world-class app, and I know it has the potential to change the way we learn languages. I am confident that under David and Linda Bradford's leadership, we can transition language education into the new frontier of 3D environments – a bold and monumental shift for the industry."
David Bradford, FluentWorld CEO, said, "Tim Doner is iconic in the language world. His language skills are almost beyond comprehension. He will help drive FluentWorlds to new heights and put it among the greatest language learning companies of the world."
Dr. Linda Bradford, founder and chief product officer of FluentWorlds, said, "What a privilege it is to add Tim to our executive ranks. His knowledge and experience in immersive language training are remarkably consistent with our virtual immersion method – one where people can learn languages without having to pay thousands of dollars to travel to another country. We believe the addition of Tim, together with our focus on apps and live 3D tutoring platform, will help create a new paradigm for business and education in the language-training market."
For more information about FluentWorlds, visit http://www.fluentworlds.com.
About FluentWorlds
FluentWorlds is a privately-held company that specializes in the delivery of flexible and sophisticated language programs via immersive 3D experiences that users can access via their mobile devices as if they were video games. The company's two apps – FluentWorlds and Perfect Accent – are the most advanced digital English-language learning offerings on the market. They combine artificial intelligence, world-class speech recognition and contextual learning in real-life environments. The apps offer proprietary voice-recognition functionality that was built in collaboration with Jeff Adams, a member of the FluentWorlds Advisory Board. Adams is one of the "fathers" of speech recognition used in Siri and led the Amazon Alexa development team. The FluentWorlds app has been rated among the top 60 educational apps in the world on iTunes out of more than 220,000 and has had over half a million downloads.