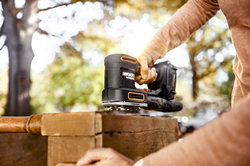 CHARLOTTE, N.C. (PRWEB) January 29, 2020
If your valentine is a do-it-yourselfer, consider giving an innovative WORX® tool gift that will be used for years, rather than the traditional roses, bonbons or bling. Great choices include the new WORX 20V Power Share 5-in-1 Sandeck™ Multi-Sander, WORX Sidekick™ Folding Worktable and WORX Storage Step Stool.
Your valentine's woodworking projects are sure to go smoothly with the WORX 20V Sandeck Multi-Sander. This versatile cordless tool does the work of a 5 in. random orbit sander, ¼ sheet finishing sander and detail sander, and also comes with detail-finger and detail-contour attachments.
The Multi-Sander features exclusive Mode Max Technology, which transfers power specific to the sanding task at hand. Each sanding pad has a unique interface designed to maximize efficiency and performance. When the random orbit pad is attached, the sanding action makes small ellipses where no two orbits are the same during rotation, leaving a smooth, swirl-free finish. The multi-sander's orbital diameter is 3/32 in.
The ¼ sheet finishing sander pad generally is preferred when working with large work pieces. No-load speeds of 4,000 to 10,000 orbits per minute provide for applications ranging from aggressive sanding (based on grit selection) to laying down a fine, smooth finish prior to staining or painting. The detail sanding mode and attachments are designed for getting into hard-to-reach areas such as corners in drawers and cabinets, between stairway spindles and other confined areas.
Five variable-speed settings are provided. The patented Hyperlock® clamping system exerts one ton of clamping pressure to prevent sanding pad slippage. Sawdust is funneled into a dust bag for a clean working environment. A vac adaptor also is included to connect to a shop vacuum.
The Sandeck Multi-Sander is powered by a 20V MAX Lithium 2.0 Ah battery, which is part of the WORX Power Share program and compatible with more than 35 other WORX DIY and lawn & garden tools.
The 5-in-1 Sandeck Multi-Sander includes one 20V, MAX Lithium, 2.0 Ah battery; 20V, 5-hr. charger; dust bag; and 5 in random orbit, ¼ sheet finishing and detail sander attachments. Also included are detail finger and detail contour attachments, 15 assorted sanding sheets and a storage bag.
The WORX 20V Power Share 5-in-1 Sandeck Multi-Sander (WX820L, $119.99) is available at worx.com and online retailers, including Amazon. It is covered by the WORX three-year warranty.
WORX Sidekick is a Valentine's Day gift with a number of practical and recreational uses. This portable, 24 in. by 24 in. worktable sets up in seconds, then folds in half for easy transport with built-in handles and storage of its detachable, tubular-steel leg set. Its resin tabletop is reinforced with honeycomb construction and legs are powder-coated for corrosion resistance. The versatile worktable can support 300 lbs. and stands 32 in. high.
Sidekick serves as a sturdy cutting support for woodworking and carpentry. The tabletop is equipped with four clamp dogs to hold work pieces, as well as inch and millimeter scales. It also is a convenient tool stand or workbench for hobbies and crafts, electrical work and more. On the lighter side, the handy worktable converts into a grilling station, potting table or side table for patio parties, picnics, camping, RVing, and more.
Sidekick features Link-Lock, which allows two or more worktables to be interlocked in different configurations. They also can be joined via Link-Lock with one or more WORX Pegasus™ Worktables.
WORX Sidekick Folding Worktable (WX066, $59.99) is available at worx.com. It is backed by the WORX three-year warranty.
WORX Storage Step Stool is a compact, portable tool box that doubles as a step stool. So, if your valentine is 5 ft. 5, the 13 in. step stool will give him/her the same reach as someone 6 ft. 8.
The 7.15-lb. step stool isn't confined to home improvement projects. Use it to retrieve hard-to-reach items in kitchen cabinets or on pantry shelves. It's helpful for changing light bulbs in recessed or hanging fixtures, as well as painting trim around windows and doors. It also comes in handy for maintenance of cars, SUVs, trucks, vans and RVs.
Constructed of durable nylon resin, the 13 in. step stool has a weight bearing capacity of 324 lbs. and can store up to 28 lbs. of tools and accessories. Its top unclasps to uncover a storage compartment that measures 14.5 in.W x 10.5 in.L x 5.5 in.D. Beneath this compartment is a pull-out drawer measuring 8.5 in.L x 9 in.W x 2.75 in.D.
Other features include an integrated handle that lies flush in the lid for easy transport, a locking metal clasp to secure tools, a rear plastic metal hinge pin and sturdy rubber feet. The step stool's top has a brushed surface for sure footing.
The WORX Storage Step Stool, (WA4214, $39.99) is available at worx.com and online retailers including Walmart and Amazon.
Reach out to WORX social media links, including Facebook, https://www.facebook.com/worxus?ref=hl; Twitter, https://twitter.com/WORXTools; Pinterest, http://pinterest.com/worxtools and Instagram, @WORXTools