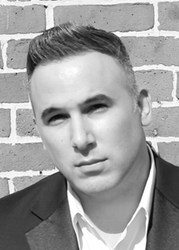 Movies are in a state of evolution, both how they are produced and watched. I'm enthralled to have PasadenaPictures.com as a launch pad for all future film endeavors. - Christopher Summa
Los Angeles, CA (PRWEB) August 14, 2013
New York City filmmaker Christopher Summa today announced his purchase of the premium web domain PasadenaPictures.com. He has plans to develop the site into an online showcase of independent cinema. Summa is an award-winning filmmaker who's work has been featured at numerous film festivals including Sundance.
This is the second website sale of the year for American writer and digital media professional Zach Urbina. His space blog CozyDark.com was purchased by I Dream of Space in March 2013.
Since then, Urbina has launched several new sites including AmericanInfographic.com, Multichannel.us, and WordPervert.com. The growing family of digital properties is being leveraged for channel agnostic content marketing, search engine optimization, and online reputation management.
"Digital media and two-way publishing, more specifically, is still in its infancy," said Urbina. "Shareable content is proving that the one-way publishing model is truly dying a slow death. In order for media to have life, these days, it has to engage audiences and appeal to their sense of authenticity."
Summa comments, "Movies are in a state of evolution, both how they are produced and watched. I'm enthralled to have PasadenaPictures.com as a launch pad for all future film endeavors."
Alongside his independent films, Summa has worked in broadcast production for advertising agency Draft/FCB on campaigns for Duracell, USPS, Unilever, and Philip Morris among others. He currently owns Dramaticus Films LLC with past clients including: B.B. King Blues Club, the Weinstein company, L'oreal/Redken products, and R.H. Macy & Co.
Urbina's digital media have been featured in the New York Times, GQ, The Awl, BlackBook magazine, Pasadena magazine, and United Academics magazine. His former blog, Cozy Dark was based on a Tumblr blogging platform and amassed 70,000 followers before being sold.
The financial details of the sale were not disclosed, but the agreement was made after several months of relationship building, from Urbina's base in Los Angeles to Summa, who is based in New York.