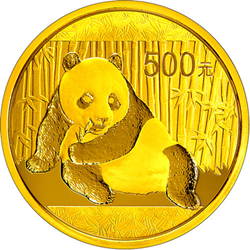 2015 Chinese Gold Panda in stock and ready to ship
San Francisco, CA (PRWEB) November 26, 2014
Due to its semi-numismatic nature, the Chinese Gold Panda is a favorite for coin collectors each year. One of the main reasons for this is that every year the Panda is released it has a specific design, which makes each mint year unique, and therefore coveted by coin collectors worldwide, and Agora Commodities has them in stock and ready to ship before most in the bullion industry can even get their hands on the Gold Panda.
This year's Gold Panda has a spectacular design as has come to be expected from The Shenzhen-Guobao Mint. Like the previous year, the 2015 Panda features a single panda chewing on bamboo. What is unique with this year's coin is no weight or purity of the gold is indicated on the coin itself setting it apart from most investment-grade gold bullion coins.
A simple Google search reveals that Agora Commodities is the only nationally recognized bullion dealer that currently has the 2015 Gold Panda in stock and ready to ship. Take advantage of their after Thanksgiving day sale and purchase this stunning gold coin at wholesale prices.
Agora Commodities is Crypto Currency's largest bullion dealer dedicated to the philosophical principles embedded within the Bitcoin Protocol. Be sure to visit them for the freshest Gold Pandas on the planet at the lowest price available.