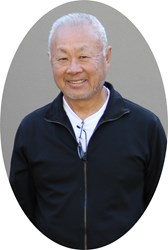 We learn new tricks on each job that helps us to more efficiently create artificial hedge walls
San Francisco, CA (PRWEB) January 17, 2014
San Mateo Architect, Max Woo, has lived in his San Mateo home for over twenty years and recently embarked on a huge remodel project in his backyard. The new landscape design included utilizing an artificial boxwood hedges on existing concrete walls that surrounded the patio, pool, and tennis court areas. The deck was also redesigned, and everything was included to compliment the minimalist, low maintenance theme of the property.
Architect Woo, consulted with his general contractor and Geranium Street Floral for the artificial boxwood hedge. He decided on a UV rated directional artificial boxwood hedge to cover the walls around the pool and deck area. He later extended the hedge wall to cover portions of the tennis court area. The project was one of Geranium Street's biggest installs to-date.
"We worked closely with Max and the general contractor to construct the artificial hedge wall so that it would conform to local building codes, and be durable enough to last," said Geranium Street president, Bob Smith. "We learn new tricks on each job that helps us to more efficiently create artificial hedge walls..." added Smith.
To construct the wall, Geranium Street pros attached blankets of artificial hedge mats to corrugated steel frames and then attached those frames to the ten-foot concrete walls surrounding the back yard. The results were quite impressive and the artificial hedge wall added some much needed texture to the otherwise bare walls. The artificial hedge wall looks particularly nice beside the pool.
"An artificial boxwood hedge has good sound proofing qualities, and that is a plus, especially near a pool or tennis court," Smith said. The artificial hedge acts as a muffle to harsh sound waves that echo off of flat concrete walls. This will decrease the noise in the tennis court, or when many people are using the pool or deck area. The other factor Woo liked was that the artificial hedge was maintenance free. Geranium Street Floral has recently installed artificial hedge walls at other properties in San Francisco, Palm Springs, Los Angeles, San Diego, and Las Vegas.
About Geranium Street Floral:
Geranium Street Floral is the premium provider of Outdoor Artificial Plants, Artificial Hedge Panels, Artificial Bamboo, Boxwood Bushes, Boxwood Balls, Topiary, and more. Conveniently located in beautiful San Marcos, CA, they're here to provide all of your artificial plant needs 7 days a week.
Related News:

Related Search Phrases:
[Artificial Boxwood Hedge] [Artificial Hedge Walls] [Geranium Street Floral] [Max Woo] [Google Trending] [Breaking News] [Artificial Trees] [Outdoor Plants]
Related Hashtags:
#GoogleTrending #BreakingNews #ArtificialHedge #FakePlants #TreeTuesday #GeraniumStreet #MaxWoo