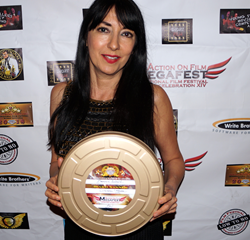 I congratulate Dr. Lagana on receiving the Phoenix Body of Work award for her important anti-bias films that explore the many societal challenges of our day, ranging from mental illness to aging to homelessness. (Dr. Dianne Harrison, President of California State University, Northridge)
LOS ANGELES (PRWEB) September 05, 2018
CSUN Psychology Professor and NIH-funded researcher Luciana Lagana, aka Dr. Luciana, received the Phoenix Body of Work award at the 2018 Action on Film International Film Festival in Las Vegas.
Dr. Luciana has an impressive body of work, which includes hosting, writing, directing and producing award-winning screenplays, films, and series, such as the unproduced dramatic feature screenplay Old River Road; the short film Color of Honor based on a true story about a 9/11 hero, shot in collaboration with the hero's family; the feature documentaries Understanding Pain in older Age, LGBT UNITED, and Off the Streets for Good; Intimate Temp Agency, the fictional satirical series on finding jobs for individuals with mental health challenges; and the Dr. Luciana Show – Aging and Falling.
Prof. Maria Elena Zavala is the Director of the CSUN NIH MARC Program, which has funded several research assistants in Prof. Lagana's lab. She commented, "Congratulations to Dr. Lagana for obtaining an award for her creative body of work, including her anti-bias research films. I look forward to reading more articles once they become available on the results of the randomized controlled experiments conducted using her research films. One of the students funded by the NIH MARC program at CSUN, Melissa Martinez, has conducted experiments using some of them in anti-bias research. She is now a graduate student in Dr. Lagana's lab."
"I dedicate this Body of Work Film Award to all the individuals who work at CSUN. My academic colleagues have been very supportive of my efforts in the film industry. The CSUN President made me very happy when, at an event celebrating CSUN's research grant recipients, she mentioned my research on older age and other anti-bias topics that I conduct using my films as being one of her favorite CSUN research projects. This 2018 Body of Work Award is similar in scope to the CSUN Exceptional Creative Accomplishments Faculty Award that I received in 2017. It is a great honor to receive this type of award both from my University and from an international film festival. I will continue working hard on filmmaking and on conducting randomized controlled trials using these films to reduce discrimination against under-represented minorities," she shared.
"As a psychology professor, Dr. Luciana Lagana brings a profound and unique perspective to her films," commented Dr. Dianne Harrison, President of California State University, Northridge. "I congratulate Dr. Lagana on receiving the Phoenix Body of Work award for her important anti-bias films that explore the many societal challenges of our day, ranging from mental illness to aging to homelessness."
Written by Stefanie Friesen
Dr. Luciana Lagana is a caring clinical and experimental psychologist. She is also an established professor of psychology, gerontology, sexuality, and women's health at CSUN, where she teaches classes and mentors many undergraduate and graduate students from several departments. Additionally, she conducts government-funded research on ethnically diverse, mainly low-income older women's physical, psychological, social, and sexual health. Concerning her artistic pursuits, since 2006 she has been studying acting and hosting in Los Angeles (in her teens, she was part of a touring theatrical company in Italy). Moreover, after studying film production under the mentorship of Prof. Nate Thomas, Director of the Film Production option in the CSUN Department of Cinema and Television Arts, she has been producing several social impact films and series. She is an actor/host/screenwriter/director/producer with over 30 film festivals' wins listed on IMDb and more than 50 IMDb film, TV, and web series' credits. For instance, she created, hosted, and directed the award-winning educational project Dr. Luciana Show – Aging and Falling. At CSUN, Prof. Lagana won the 2017 CSUN Exceptional Creative Accomplishments Faculty Award for her anti-bias feature films and shows, as well as the 2011 Preeminent Scholarly Publications Faculty Award and the 2008 Visionary Community Service Learning Faculty Award.