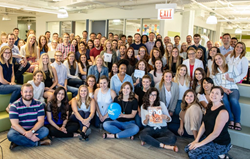 CHICAGO (PRWEB) September 27, 2018
Walker Sands, an integrated PR and digital marketing agency for B2B technology and professional services companies, has been named to Chicago Inno's 50 on Fire list. The honor comes after a year of phenomenal success, marked by growth to 110 employees, numerous accolades for tremendous PR and digital marketing work, and expansion of Walker Sands' West Coast presence.
Chicago Inno's 50 on Fire represents the 50 people and companies that are heating up Chicago tech. Those selected include people and startups that have had a banner year—whether that's new funding, recent product launches, big hires or innovative approaches to solving problems.
Growth has been the theme for Walker Sands in 2018. Since the beginning of the year, Walker Sands has been named to the Inc. 5000 for the 6th straight year, a distinction only six percent of Inc. 5000 companies achieve, as well as named the No. 1 agency to work for in America (under 120 employees) by The Holmes Report, a leading PR industry publication. The agency has also experienced significant internal growth, surpassing the 100 employee milestone, opening a Seattle office to better serve West Coast clients, as well as elevating 3 talented employees to the role of partner. Over the course of 2018, Walker Sands has signed 30 new clients and expanded digital service offerings, with demand generation revenues up 147 percent year-over-year.
Walker Sands' client roster includes the fastest-growing and most innovative companies in Chicago, including Grubhub, CloudCraze (acquired by Salesforce), SpringCM (acquired by DocuSign), G2 Crowd, HighGround (acquired by YouEarnedIt), Essendant (acquired by Staples) and Miller Heiman Group. Through public relations and integrated marketing programs, Walker Sands is accelerating the growth of Chicago's technology companies and shining a national spotlight on the city's technology scene. Beyond client work, Walker Sands' has a strong commitment to its employees, evidenced by recent recognition as the No. 13 company to work for in Chicago and the No. 3 workplace for women in Chicago by Crain's.
"2018 has truly been a defining year for Walker Sands," said Mike Santoro, president of Walker Sands. "We've been able to accomplish some amazing things both internally and externally as our clients have experienced record levels of both venture capital funding and M&A. As our Walker Sands family has grown, this success really boils down to the amazing people who work here. Our employees' talent and dedication to their work is truly what sets us apart, and I can't wait to see how we continue this momentum for the rest of the year and into 2019."
To learn more about Walker Sands' 2018 growth, visit http://www.walkersands.com.
About Walker Sands
Walker Sands is a public relations and digital marketing agency for business-to-business technology companies. With an integrated approach to creative services, Walker Sands helps clients build brand awareness, enhance credibility and drive new business. Walker Sands is a six-time Inc. 5000 honoree and regular recipient of some of the industry's most prestigious awards from organizations including Entrepreneur, Holmes Report and Hermes Creative. Walker Sands was founded in 2001 and has offices in Chicago, San Francisco and Seattle. To learn more, visit walkersands.com or walkersandsdigital.com.